POSTER CAMPAIGN TARGETS MENTAL HEALTH ISSUES ON SITE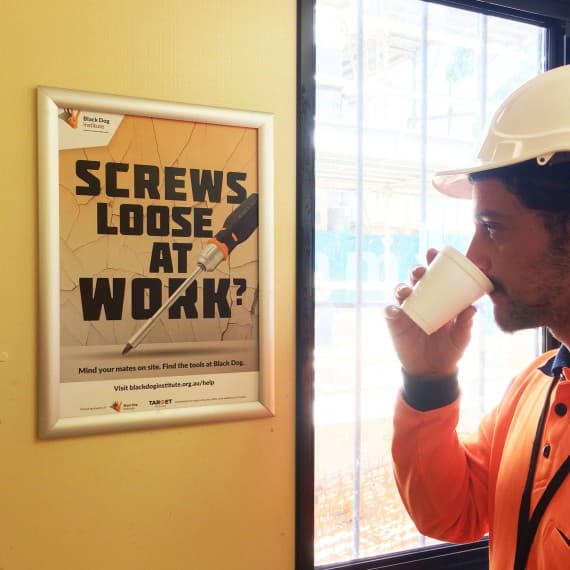 According to current research, workers in the construction industry are at a higher than normal risk of experiencing mental health problems. So Target Tradies is working with Black Dog Institute in a new campaign aiming to deliver positive mental health messages to construction workers throughout Australia.
The combination of Target Tradies' access to Australian construction sites with the Black Dog Institute's research into mental health will see the positive mental health messaging being rolled out across construction sites Australia-wide.
The creative posters will give construction workers pragmatic, useful, and relevant tips on how to support mental health. The aim is to help make thinking about mental health as normal as thinking about physical health and safety on site.
The posters also ask readers to "mind your mates", in a bid to reduce stigma and to get readers to support their colleague's mental health, as well as their own.
"We know that people in the construction industry have a strong culture of safety, and looking out for their mates," says Black Dog Institute research fellow Dr Mark Deady.
"We wanted to extend that way of thinking to mental health - knowing what the danger signs are, and either being there to help out a mate, or knowing where to seek help for yourself."
The posters are designed to attract attention by using various plays on words, such as "stressed and can't nail it?", to make the signs and symptoms of mental illness relatable and quickly understood.
Target Tradies founder Michael Blumberg says he and the company are excited to share the engaging messages across their construction sites.
"As a company, we are committed to improving awareness of physical and mental wellbeing of workers onsite. We hope that through campaigns like this, more in the industry will see how we can improve onsite safety and come on board with this great initiative."
"We've have backed this with support and sponsorship of The Black Dog Institute since the beginning of 2018.
"Our media is uniquely placed within the construction sites, specifically in dwell spaces. Here tradies have the opportunity to read messages and hopefully act on them."
The campaign is set to roll out during September, and construction companies can get involved via the Target Tradies website.