Portable weighbridge an ideal solution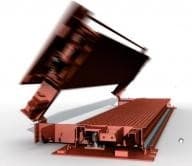 Versatile … the SPT-28 Portable Modular Weighbridge
National Weighing & Instruments specializes in the sale, repair and calibration of measuring equipment for the manufacturing industry.
A family-owned business with offices and agents throughout Australia its product range covers small fine precision measuring equipment to large packaging and weighing machines.
Since its inception in 1994, National Weighing & Instruments has gained a reputation for its quality service and equipment.
The product range includes the SPT-28 Portable Modular Weighbridge.
The modular surface mounted weighbridge comes in a variety of lengths from 9m to 36m and is ideal for weighing road vehicles of up to 80 tonnes.
The deck system incorporates hinges that allow half-panel rotation so that the weighbridge can be easily transported fully assembled – complete with all its component parts, including the load cells.
This unique solution facilitates fast installation and allows the weighbridge to be easily moved to another site as required.
Being only 28.5 cm high, the SPT-28 is the ideal solution for surface mounted installations where ramp space is restricted.
Features include:
Australian trade approval
Digital loadcells/junction box
D410 weighing indicator
High resistance to corrosive elements
Fast installation
Easy maintenance
High resale value
National Weighing & Instruments
Ph: 1300 669 162