Published 10-09-2020
| Article appears in August 2020 Issue
PORTABLE SAFETY ONSITE OR OFFSITE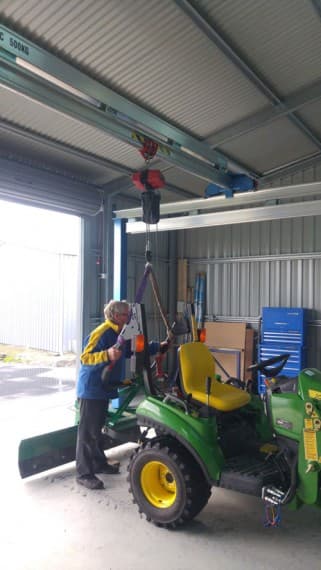 Ask anyone affected by supply chain disruptions during the COVID-19 pandemic and they'll tell you: sometimes getting what you want when you want it is almost impossible.
It's certainly true for those equipped with a manual chain hoist, which trades ease of use for convenience. The physical labour required in the use of a manual chain hoist for moving goods or equipment can impact productivity or, even worse, cause injury to staff.
That's why Australian engineering firm Bomac has developed its new battery chain hoist, which combines the convenient portability of a manual chain hoist with the ease of an electric hoist.
"We saw a real gap in the market," says Tate McFarlane, Bomac's engineering director.
"People needed to use a portable lifting hoist quite regularly, but the use of a manual hoist was too slow or caused worker fatigue, not allowing them to get on with the work they really need to do."
Bomac's battery-powered chain hoist gives you portable safety and strength wherever you need it. With capacities of 250kg or 500kg and an easy-to-use design that prioritises safety, it's ideal to move among equipment onsite.
The unit uses an 18V Li-Ion battery to provide a practical piece of hoisting equipment. One battery provides approximately 25 minutes of runtime during a 60-minute period if used at full capacity and maximum speed.
Every unit comes with two batteries, a single-phase 240V charger and a portable case, making it ideal to take from site to site and use where there is no power.
"Li-Ion batteries are used for so many applications these days, from powering computers to heavy vehicles," McFarlane says.
"The Li-Ion battery technology continues to make advances providing better performance and longevity so it's no surprise that we can now use this technology to build useful lifting equipment."
The unit comes equipped with a slipping clutch as well as an overload alarm and an LED visual load indicator to provide operator feedback and reduce the risk of damage or injury.
"We have found these units to be used across a range of industries including maintenance, construction, farming and mining, where a power source is not always easy to access – if it's even available," McFarlane says.
Combined with an Altrac low-headroom gantry, the chain hoist can operate in and maximise limited space, such as inside a shipping container.
In assembly applications where heavy parts are lined up and put together, the unit's variable speed allows users to slow the process down so parts can be aligned precisely. Some traditional hoists only have one or two speeds, the constant stopping and starting of which can cause the load to bounce around and damage equipment.
Bomac's chain hoist is price-competitive when compared to a traditional electric hoist; owners enjoy the added bonus of not having to pay for additional wiring and cable management systems such as festooning or busbar systems.
Don't let your environment dictate your ability to get the job done. Bomac's battery-powered chain hoist puts power and safety onsite with you, no matter the location.
Bomac
03 9796 5300
www.bomac.com.au