PORTABLE PRINTING IN YOUR HANDS
09-04-2015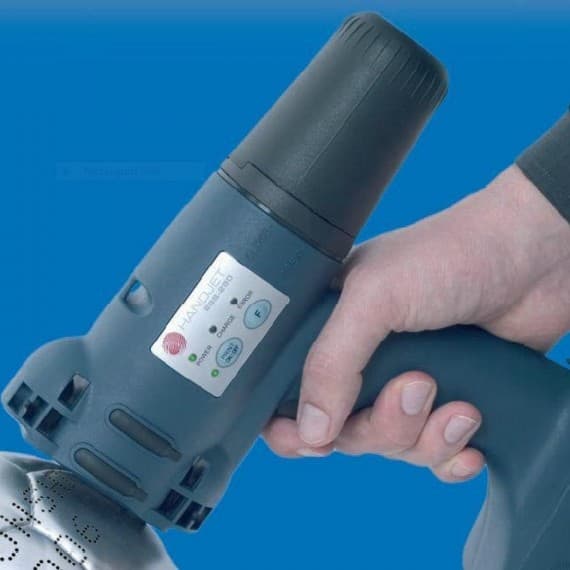 Portable printing technology has arrived.
Easily print your important information anywhere, on any surface, at any time, in any position with the new Handjet EBS-250D.
The Handjet EBS-250D is a mobile inkjet printer weighing less than a kilogram which produces reliable, crystal clear marking and coding on concrete, metal, glass, textiles, plastic, cardboard or wood: almost any surface you can find.
Designed and manufactured in Germany, the Handjet EBS-250D is built to last featuring a robust easy-on-the-hands outer casing.
It is backed by a 24 month warranty on parts & workmanship and boasts a 50 hour re-chargeable battery life.
How does it work?
1.     enter a message with up to 1,300 characters over two lines into the EBS software on a Bluetooth enabled Windows based computer
2.     press the EBS-250D up against the surface to be printed
3.     move the EBS-250D across the surface in the direction you want to print as fast or slow as you desire. Wheel guides adapt to the operators hand speed resulting in lightening fast, clear, easy-on-the-eye print.
4.     To print the second line, just repeat.
It's that easy!
Features:
·       Lightweight device – at only 980grams it is seriously user friendly allowing print on any surface; flat or round, rough or smooth, up or down.
·       Interchangeable 110ml Ink Cartridges – print from 18,000 to 110,000 characters depending on matrix size in black, red, yellow, white & clear (visible under UV light)
·       Patented integrated deflector on print head – reduces smearing and smudging for sharp easy to read messages
·       16 nozzle ruby stone nozzleplate – smartly and efficiently applies ink with adjustable print/font/special character image sizes between 7mm to 27mm.
·       Programmable/Storable Memory – store up to 10 messages with up to 1,300 characters per message
·       Li-Ion battery – 50 hr re-chargeable battery life
·       240v/1A Charger – re-charge in less than 2.5hours
·       Special Register – automatic programming of date, time, expiry dates, number counter and batching
Applications:
·       Wood/timber
·       Rubber surfaces
·       Leather surfaces
·       Food product packaging
·       Carpets & other fabrics
·       Aluminium
·       Concrete & ceramic
·       Cardboard
·       Stretch film & PE bags
The EBS Handjet Printer - EBS-250D is available from Signode Australia.
Signode
Ph: 1800 685 824