PORTABLE GAS HEATERS WARM THE MARKET
09-02-2017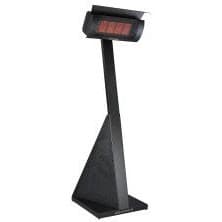 Thermofilm has added gas heaters to its stylish Heatstrip outdoor heater range, and has taken both them, and the classic electric Heatstrip, mobile.
Heatstrip electric heaters have been an outdoor heater of choice in the hospitality industry for many years, in part due to their high energy efficiency and reliability.

The new Heatstrip products comprise the freestanding Heatstrip electric heater, the portable Heatstrip LPG heater and a wall mounted Heatstrip natural gas heater.

Heatstrip Portable Electric Heater (THH1800AP)

Thermofilm has taken one of its most successful Heatstrip models and made it even better by incorporating it into a sleek and robust portable stand.

This makes it ideal for spot and temporary heating of dining tables, bars, party lounges and other areas where patrons converge, as well as workstations, both indoors and outdoors.

The new electric freestanding heater is energy efficient with the slimline 1800 watt Heatstrip Classic radiant heater provides gentle, comfortable warmth with no glow. It heats an area of 3-4 square metres and has a running cost of .45c per hour (based on a .25c tariff).

Offering full mobility thanks to wheels on the stand, the Heatstrip THH1800AP model is corrosion protected for even the toughest environments, IP55 rated to prevent water ingress and has a unique alloy casing material that allows the heater to be used in corrosive environments such as coastal/seaside locations, outdoor kitchens and around saltwater pools.

The heater is Australian designed, engineered and assembled and comes with easy DIY assembly and installation. It plugs into a normal power point with the concealed power cable adding to its sleek appearance.

Heatstrip Portable LPG Outdoor Heater (TGH34PL)

The new Heatstrip portable LPG (gas bottle) heater incorporates world leading design, quality, heat performance and energy efficiency to provide an elegant and stylish solution for any outdoor area.

It's no longer necessary to put up with clunky, ugly and cheap gas mushroom heaters that barely last a season, don't provide much heat and are expensive to run.

The Heatstrip portable gas heater, model TGH34PL, offers significant running-cost-savings compared to standard patio mushroom heaters: a 25 per cent saving on high output and an 80 per cent saving on low output, while providing a significantly higher heat output.

Providing a high heat output of 34MJ, Heatstrip has a 4-tile commercial-quality ceramic burner, which offers higher efficiency than a standard stainless steel burner. The area it heats on high is 16 square metres.

For example, based on a 9kg LPG bottle, a standard mushroom heater costs $2.50 per hour to run, whereas the Heatstrip will run for up to 44 per cent longer and costs just $1.39 on low and $2 on high.

It is easy to operate with an integrated piezo ignition with tilt safety switch and flame failure device included. A high/low output control provides heat output flexibility.

The robust stand design allows the gas pipes, bottle and connections to be fully concealed, yet it offers easy mobility due to discreetly placed wheels. This makes it perfect for both commercial and residential applications.

A protective grille and reflector is included as standard to guarantee safe operation and heat can be directed to areas that are being used.

All Thermofilm's new Heatstrip models come with a one year commercial warranty (two-year for residential installations). They will be available in March from hardware and electrical contractors, heating specialists and direct from Thermofilm.
Heatstrip
www.HEATSTRIP.com.au