PORT REVITALISATION RAISES SPIRITS
08-08-2017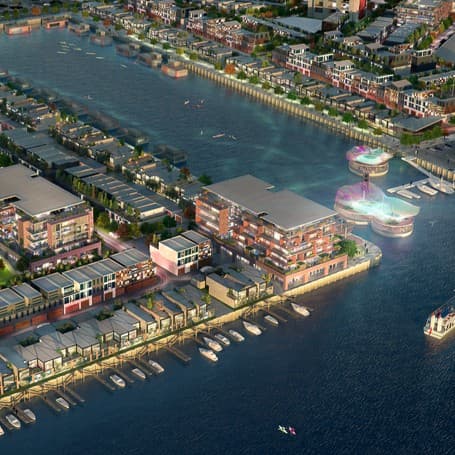 An artist's rendition of the revitalised Port Adelaide.
Of all the industries expected to revitalise South Australian ports and attract over $280 million in government investment, the food and beverage manufacturing industry might be the least expected. 
But that's exactly what's happening, with several prominent craft breweries (of all things) leading the way in what promises to be a complete economic revitalisation of Port Adelaide. 
CEO of brewery Pirate Life Michael Cameron said that their planned new brewery (to be built in Port Adelaide) would likely include a 200-250 hospitality venue – an aspect of the business lacking at its jam-packed Hindmarsh brewery.
"We'd like to have it operational by this time next year," Cameron said.
"There's a lot of good things happening down at Port Adelaide, there's a lot of new restaurants and a few pubs being redeveloped so if we can get the brewery down there and have a front of house offering then we can add to the development of Port Adelaide."
Last year the South Australian government announced more than $280 million of new private developments to help transform the historic maritime precinct of Port Adelaide into a residential, commercial and tourist hub.
Two Australian developers and a South Australian construction company have been selected as preferred proponents for the development of nearly 23 hectares of waterfront land across Port Adelaide – about 14km northwest of the Adelaide CBD – that is touted as "Australia's last major undeveloped port waterfront".
Similar projects in Fremantle, Brisbane, Melbourne, Sydney and Hobart have previously played major roles in boosting local economies and injecting life back into rundown and outdated port precincts.
"Two and a half years ago we started with Jack, Red and myself and we've now got 41 staff on the books and we are planning on building the new brewery in Port Adelaide so there's a lot going on," said Cameron. 
He also said the brewery's market share had grown steadily over the past two years and Pirate Life aimed to grow again from its current 6 per cent to capture an 8 per cent slice of the national craft beer market by the end of next year.
"We are positioning ourselves as a premium craft beer brand – as do three or four other producers around Australia – and I think there's a real good opportunity there at the premium level as there is with the premium wine and spirits industries," he said.
"We're still growing – we've got new tanks coming in the week after next, which will give us a 40 per cent capacity on that and it will allow us to open up some more markets within Australia and focus a bit more on export.
"We're currently in New Zealand, Hong Kong, Singapore and the UK and we look forward to launching in Sweden and Norway before Christmas and Taiwan and Vietnam about the same time."
Craft beer has played a role in the revival of several major port precincts around Australia in recent years including Fremantle, Darling Harbour and Geelong.