POLYMERS ABSORB THE SHOCKS OF HIGH-IMPACT MACHINERY
29-06-2017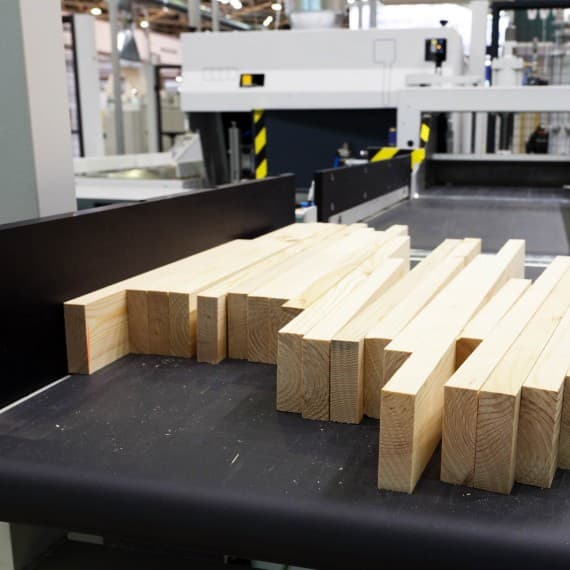 Timber conveyors experience particularly high impact
Cut to Size Plastics is now offering customised polymer-based industrial shock absorbers that are reckoned to absorb up to 75% more energy than typical polyurethane types. Wearzorb industrial shock absorbers are particularly useful in high impact applications where severe bounce-back is a concern.
Correctly specified, the shock absorbers reduce the danger of structural damage to the machinery and surrounding area, as well as reducing the chance of damage to the materials being processed.
Wearzorb shock absorbers are engineered by Cut To Size in association with Engineering Rubbers of Blacktown. They are available in a number of configurations, with and without steel backing, in steel "sandwiches" and with a highly durable protective facing that extends the life of the plate and structural frame.
In addition to lower initial tooling costs and reduced maintenance benefits, all Wearzorb shock absorbers also offer the major OH&S benefit of greatly reduced noise.
Wearzorb's unique composition – which is clean and resists ozone, cracking and abrasion – provides a custom-designed cushion for a variety of product-specific transfers and process applications. The thickness of each plate is determined by the severity of the impact in conjunction with the mass and velocity of the impact material. The heavier the material being handled, the thicker the plate used.
"In addition to reduced product and structural damage, Wearzorb helps prevent crystallisation of welds caused by high impact applications," says Pat Flood, NSW Manager of Cut To Size Plastics. "This prevention of damage helps increase productivity and production flow, preventing downtime at the same time as it minimises the OH&S hazard of machinery failure or product splintering or breakage."
Plastic shock absorbers provide a compact, easily installed and easily replaced alternative to more bulky and expensive shock absorber and spring structures in many applications. Wearzorb extends the known benefits of plastics in shock absorption applications by offering not only a polymer structure with outstanding performance compared with traditional polyurethanes, but also a product range that can be custom-engineered to individual applications.
Cut To Size Plastics
02 9681 0400
www.cuttosize.com.au