POCKET-SIZED OSCILLOSCOPE FOR PORTABLE TROUBLESHOOTING
08-05-2018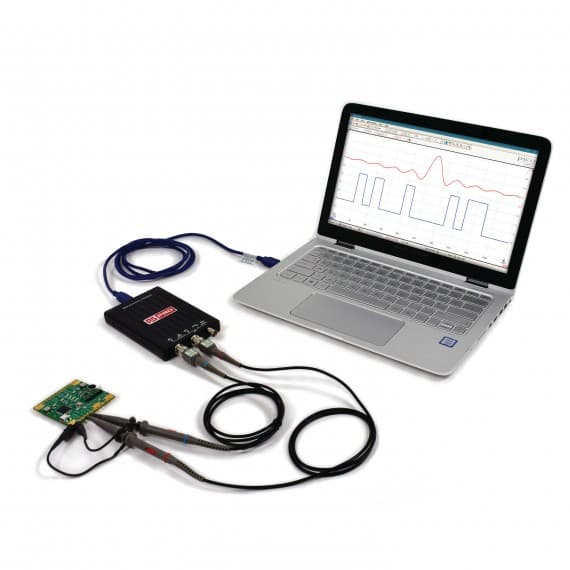 Available now from RS Components the RS Pro 2205A-20 is an ultra-compact oscilloscope with a footprint around the size of a passport and just 19mm thick, making it ideal for field service and troubleshooting. The USB-powered two-channel scope has a 20MHz bandwidth and includes an arbitrary waveform generator.
Specifications include a maximum sampling rate of 200Msample/s, software-enhanced resolution up to 12bit, and high-speed USB streaming up to 1Msample/s for waveform captures of up to 100 million samples in length. Input range is selectable from ±50mV to ±20V. Performance includes less than 150μV RMS noise and -50dB harmonic distortion.
The inbuilt signal source can act as a standard signal generator (sine, square, triangle etc) with programmable sweep or as a 12bit 1.5Msample/s full-function arbitrary waveform generator.
The RS Pro 2205A-20 comes with PC software for MS Windows 7, 8 and 10 that can be resized to use as much or as little of the screen as required.
The oscilloscope is shipping now from RS in the Asia Pacific region complete with software, two switchable probes and a 5-year warranty.
RS Components
1300 656636
au.rs-online.com