PNEUMATICS PORTFOLIO GOES BEYOND TUBING AND HOSES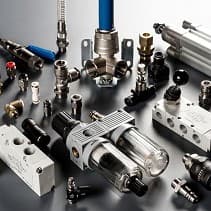 RS Components has launched a major expansion of its portfolio of pneumatic components with the release of a full range of very competitively priced RS Pro devices.
RS has offered a wide range of RS Pro tubing and hose products for many years, but the new launch represents a significant pneumatic portfolio extension.
Offering a significant value-for-money alternative and available directly from stock, more than 1000 products have been added to the RS portfolio, including cylinders, actuators and valves including solenoid types, as well as a range of air-preparation and air-treatment devices and a wide range of fittings and quick connect couplings.
These new RS Pro components target machine builders and maintenance engineers who are working on applications such as conveyor systems, production lines, material handling or packaging machines.
Shipping now in the Asia Pacific region, the pneumatic components have undergone strict testing to meet demanding industry standards and come with the RS Pro seal of approval and a three-year warranty.
RS Components
1300 656636
au.rs-online.com