PNEUMATIC TORQUE WRENCHES OPTIMISE SPEED AND SAFETY
09-02-2017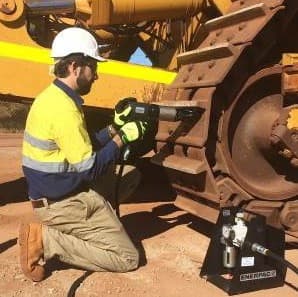 Enerpac's PTW pneumatic torque wrenches come with torque capacities from 1356 to 8135Nm. They provide a clean, speedy and nonimpact method for tightening bolts and fastener assemblies to a set torque rating, optimising both joint integrity and workplace safety.
These highly reliable and lightweight pneumatic wrenches are very useful and workplace-friendly in factory, workshop, worksite and pipeline applications where compressed air is readily available. The low-vibration design reduces operator fatigue and minimises the risk of vibration related injuries, particularly on operators' hands.
The PTW features a low-friction air motor driving a planetary gearbox with a very high reduction ratio. The gearbox incorporates a reaction arm that absorbs the torque reaction.
Unlike an impact wrench, a pneumatic torque wrench is driven by continuous gearing, and so produces no noisy and hazardous hammering, optimising accuracy and repeatability and guaranteeing fast, safe and economical operation.
The ergonomic design combines a weight-distributing handle and simple shape to enable easy handing for repetitive tasks while eliminating trap points for fingers and avoiding impact hazards.
The PTW is easy to operate. The user simply sets the air pressure and pulls the trigger. And its continuous rotation saves time as there is no need to re-stroke tools.
The low-noise motor produces only 85dBa, and so is suitable for both indoor and outdoor applications. And units can be supplied with or without portable filter-regulator-lubricators that enhance reliability and durability under demanding service conditions.
Enerpac Australia
02 8717 7200
www.enerpac.com.au