Published 31-10-2019
| Article appears in November 2019 Issue
PNEUMATIC ACTUATORS CLEAN UP IN FOOD HANDLING DUTIES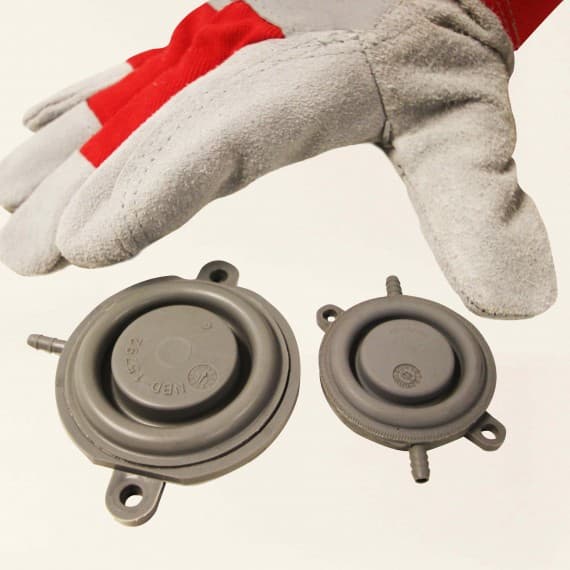 Tiny but robust Firestone Airomatic pneumatic actuators from Air Springs Supply respond to high-speed automation, conveying and transfer challenges that demand ultra-compact and ultra-hygienic performance when handling food, beverage and delicate manufactured products.
The smallest-ever, metal-free and maintenance-free 50-P-10 Airomatic Polyactuators achieve a stroke of 10mm at maximum pressure of 3.5bar and a diameter of 50mm inflated, yet can exert forces of up to 38kg at just 3.5bar.
Constructed from layers of polyurethane welded together to form a tight, tough seal, they have been laboratory tested to last for five million cycles without product failure or performance degradation.
Originally designed for the conveyor industry – where their compact design permits increased design flexibility – Airomatic applications include transfer sections and roller brakes, but they can be used in almost any industrial actuation application requiring very small pressure and stroke. The three-barb fitting design allows for easy installation of standard industrial tubing.
The Firestone Airomatic Polyactuator range – the most compact pneumatic actuator range Air Springs Supply has ever introduced to Australia – is one of the latest and smallest members of a Firestone actuator and isolator family that includes Airstroke actuators and Airmount isolators in individual stroke capacities up to 40,000kg and measuring up to 1m across.
The tiny Airomatics are proportionately just as tough as their larger counterparts and are easily customisable to meet specific sizes and shapes for a wide variety of materials handling and processing applications.
"Firestone developed the Airomatic Polyactuators to satisfy the need for very small spaces and light forces," says Air Springs Supply Technical Product Manager, James Maslin. "These highly compact actuators have no pistons, rods or sliding seals, so friction, bending, scoring and wear are not a concern. They are easy to wash down and don't require lubricants to which grime and pollutants can attach."
"Firestone engineered these actuators to be as robust and reliable as their larger air springs, which have been proven over decades in Australian industrial environments. They will last for literally millions of cycles without product failure or performance degradation."
Air Springs Supply
02 8877 5500
www.airsprings.com.au