PLUMMER BLOCK HOUSINGS PROMISE EXTENDED BEARING LIFE
27-02-2017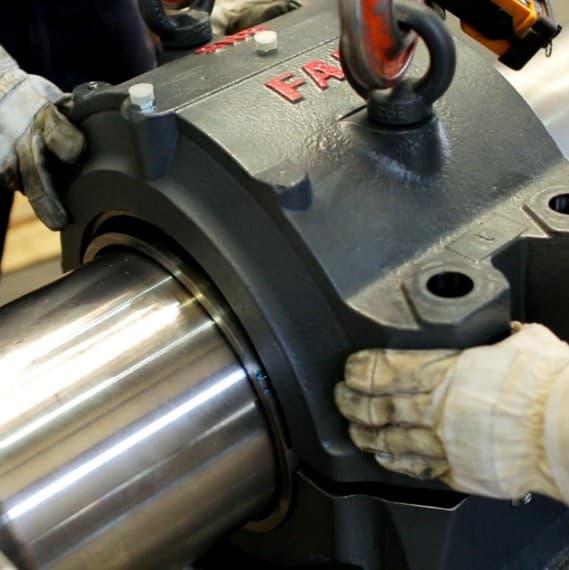 The latest plummer block housings from Schaeffler Australia respond to industry demands for extended bearing life with reduced maintenance and lower total cost of ownership.The new generation of FAG plummer block housings have arrived in Australia. These are large-size bearing housings, engineered to increase the service life of fitted spherical roller bearings by up to 50 percent compared with conventional plummer block housings.

Their advances – including increased strength and shock resistance due to the use of (EN-GJS-400) spheroidal graphite cast iron as standard – make the SNS ideal for the broad diversity of applications where spherical roller bearings are widely used, including machinery operating in aggressive environments.
Key applications include industries such as mining and minerals processing, quarrying, cement, manufacturing, oil and gas processing, bulk materials handling (including port loading facilities), manufacturing and steel, primary product and food and beverage processing, pulp, paper, packaging and forestry, and major infrastructure and water and waste water plants.
The new plummer blocks are available now  for shafts from 115 to 530mm diameter.
According to Schaeffler Australia Industrial Heavy Industries Manager, Jeff Gordon: "Maintaining production is obviously vital in our energy and resources sectors – where even short interruptions and maintenance outages can be measured in millions of dollars – but whole-of-life performance is equally important to the broad spectrum of industry."
The patented design of the FAG SNS plummer block housing distributes the load on the bearings more effectively (uniformly) than previous and alternative housings. Using its in-house developed bearing design, calculation and simulation software, Bearinx, Schaeffler is able to analyse different housing designs with various combinations of bearings, enabling the optimisation of the complete system (housing and bearings).
The FAG SNS housing design is a split plummer block, which allows maintenance to be carried out more efficiently and quickly by providing easier access to the bearing, which saves time and money.
Additionally, Schaeffler can provide a special split labyrinth seal that facilitates the use of the FAG split spherical roller bearing inside the housing. FAG split spherical roller bearings radically simplify cutting, mounting and maintenance downtime by 50 percent or more while reducing costs by eliminating complicated bearing replacement procedures in machinery and plant.
Four different seal variants including high-speed labyrinth seals, split labyrinth, clip-in and bolt-on Taconite seals ensure effective sealing of the SNS housing to protect the bearing from harmful contaminants.
An axial lubrication groove in the upper section of the housing ensures optimum lubricant supply for bearings in every bearing position (for example, using the FAG Concept 8 compact lubrication system for grease and oil).
The design also integrates good anti-corrosion characteristics and reduced cleaning requirements, due to inclined run-off areas as well as a projecting upper housing section.
Furthermore, the SNS housings are fully interchangeable with conventional solutions, and so are suitable for retrofits.
 
FAG plummer block housings are suitable for a wide variety of spherical roller bearings, including the latest FAG split spherical roller bearings.
Schaeffler Australia
02 8977 1000
www.schaeffler.com.au