PLC TAKES CONTROL IN UPGRADED AQUATIC CENTRE
08-05-2018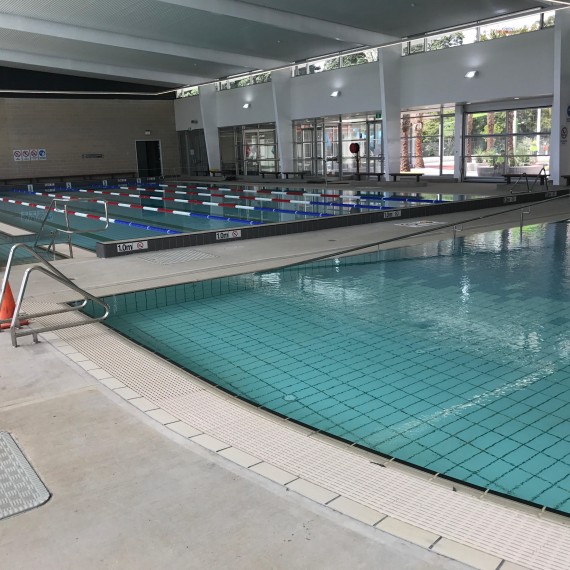 The Ruth Everuss Aquatic centre at Lidcombe in Sydney's west was closed for almost two years for extensive redevelopment. However, the reopening in April 2017 unveiled a site that had been transformed into a state-of-the-art facility.
While the transformation was undoubtedly significant, great care had been taken to preserve the heritage status of the facility, which was built in 1959. Some of the existing buildings were demolished, but many remained or were refurnished; examples include the grandstand, stanchion and shelters around the main 50m pool, which now includes a ninth lane and ramp for wheelchair access. While many new facilities were built, it was mandated that the look of any new construction fit in with the existing facilities.
Apart from the main outdoor facility, the revamped centre also includes two water polo pools (indoor and outdoor), a 6-lane 25m indoor pool and a programme pool for rehabilitation. For families, there's an outdoor splash pad and an indoor leisure pool, complete with numerous jets, air blowers and spas. Other new features include lighting for nighttime use and heating for year round patronage.
Keeping all these facilities running involves a surprisingly complex control system. It monitors a range of parameters for each pool, including water levels, chemical dosing, water temperature and filtration. For this, the plant rooms have an intricate web of reticulation pipes, with accompanying pumps, sensors and filters.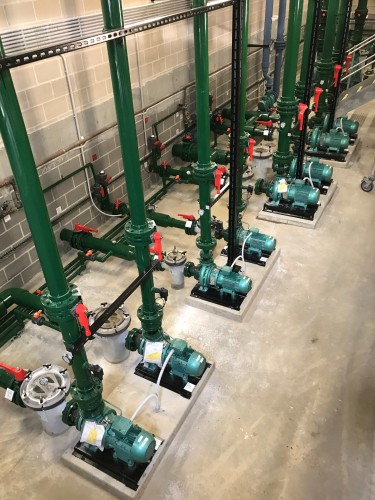 An advanced filtration system is used to remove solids from the water. Each pool has two filtration pumps, to sift and remove both coarse and fine particles. The active filtering agent is DE (diatomaceous earth). For DE regeneration and backwashing, the controller is required to run a separate vibratory routine for 30 seconds on each of the filters. This operation shakes the DE from the socks in the filter and extends its life.
Pool water is kept clean by an automated chlorination system, also controlled by the central controller. Two types of chlorination are used – inline saltwater chlorination for the saltwater pools and granulated chlorine for the freshwater pools. Chlorines are effective disinfectants but can be expensive. So to prolong their life, the pH level of the pool water is maintained at 7.2 by dosing carbon dioxide. This has required special controlling circuits to be constructed within the PLC program.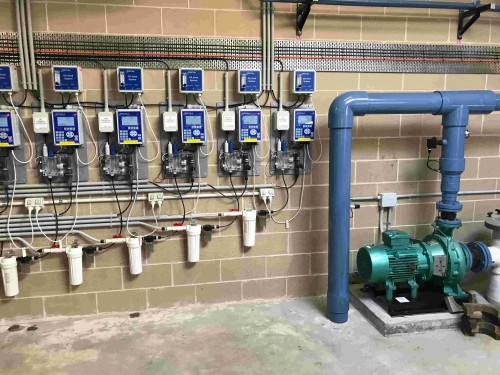 For further purification, the indoor pools have UV steriliser treatment to remove remaining chloramines and other impurities. (The outdoor pools do not have this UV treatment as it's provided by the sun.)
The water temperature is maintained by the use of heat pumps. Heat pumps exchange heat with the complex's air conditioning system; recycling the heat would otherwise be dissipated into the atmosphere. They are used in preference to gas heating, as they are more economical to run.
The temperature needs to be strictly controlled within a 0.4°C band, requiring a series of high precision RTD sensors to be employed. One potential problem found in many heating applications is temperature inconsistency, where the whole load is not at one uniform temperature. This is overcome by constantly cycling water through the pools.
In order for the many water features to work properly, constant water pressure needs to be maintained. Bob Bishop of Engineered Control Systems said: "Controlling water flows to maintain constant pressure proved surprisingly difficult. PID is normally adequate for this type of control, but in this case, the pressures fluctuated too erratically and PID loops could not respond quickly enough." A dedicated function block needed to be designed for this and it ensures constant water pressure.
Omron's CJ2M series PLC was selected as the controller. It supports a sophisticated set of instructions needed for control systems, including user-defined function blocks. It can also handle in excess of 2500 I/Os and has Ethernet/IP onboard for networking. A remote network was needed as both machinery and control panels were distributed across five main areas within the complex.
The digital and analogue remote I/O is connected to Omron's NX remote I/O blocks, which is linked to the CPU via Ethernet/IP. All wiring is ferruled, meaning each wire can be quickly pushed into screwless terminals without tools. The terminals apply consistent pressure to the wire, for a secure, life-long connection, which is also more resilient to vibration than standard screw terminals.
For operator control, some parts of the complex plant use conventional indicator boards and pushbuttons. Other areas use HMIs, which are linked over the same Ethernet connection as the I/O.
Omron Electronics
1300 766 766
www.omron.com.au