Play it safe with Duro-Flash
31-08-2010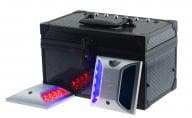 Economical alternative … the Duro-Flash
The Duro-Flash is one of the unsung heroes of the VISIONSafe product range. 
Featuring six heavy duty lights in a recharging carry case, the Duro-Flash is a safe, economical alternative to a standard flare for delineating danger zones. 
They can be used to mark off hazardous roads, show safe driving areas underwater, direct traffic, or warn of a break down. 
Available in red, blue, or a combination of both, the Duro-Flash is a double-sided lighting system that can be sighted from both directions. 
They have a die cast aluminium construction designed to withstand a drive over weight of up to 9000kg.
The Duro-Flash is sealed to protect against water and dust, making them perfect for use in both floodway's and extreme dust situations. 
The individual lights are stored in a heavy-duty carry case which doubles as a charging unit using a cigarette lighter adapter. 
Convenient LEDs on the outside of the case show when the units are fully recharged.
The Lithium battery lasts for about 5 hours between charges. 
The on/off switch has been incorporated into the recharge design – plug it in to turn it off and charge it, and unplug it to turn it on and put it to work. 
Contact VISIONSafe for more information on the Duro-Flash, or other safety products.
VISIONSafe
Ph: 08 9295 0624