PLASTIC ENCLOSURES SEALED TO IP66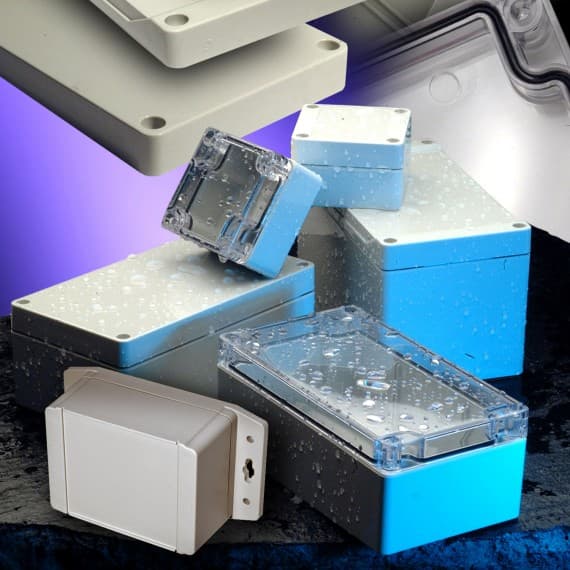 Hammond Electronics offers two ranges of IP66-rated ABS and UV stabilised polycarbonate enclosures optimised for use in harsh industrial environments. The 1554 flat lid and 1555 styled lid ranges are designed to house printed circuit boards or DIN rail mounted components, with the IP66 seal achieved using a one-piece silicone gasket in a tongue and groove seal.
There are 23 sizes from 66 x 66 x 41 to 239 x 160 x 119mm available with flat and styled self coloured, clear and translucent lids. A further ten different variants from 119 x 66 x 42 to 180 x 119 x 62mm are available with flanged lids. These cannot be opened without removing the enclosure from the surface to which it is attached.
The styled lids of the 1555 series include a recess suitable for mounting a membrane keyboard and are also fitted with PCB mounting bosses. Bases are fitted with internal DIN rail mounting tabs in all but two sizes and standoffs for mounting PCBs or optional internal panels are provided in all versions.
All construction, mounting and retaining screws are stainless steel. Options include a foot kit and steel panels for mounting heavy components.
Hammond Electronics
08 8240 2244
www.hammondmfg.com