PLASTIC BEARING MATERIAL THRIVES IN HIGH-SPEED APPLICATIONS
24-02-2017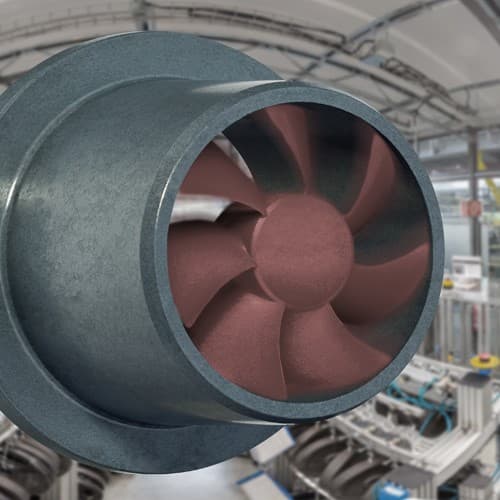 The latest plastic bearing material from igus has been proved to outperform alternatives such as sintered metal bearings in high-speed continuous rotating applications. This means that iglidur L350 is an ideal material for bearings for fans, blowers and electric motors.
In comparison with metal alternatives, the lubrication-free and maintenance-free bearings have much greater resilience against impact and edge pressure. And in tests they shoed a three-fold reduction in wear at speeds of 1.5m/s. Furthermore, the coefficients of friction and wear for iglidur L350 plain bearings remained constantly low as the speed increased, whereas the metal bearings reached their limits at higher speeds.
The key to the performance of the new material is its low thermal expansion, even in demanding ambient conditions and at temperatures up to +210°C. It also exhibits very low levels of moisture absorption, and so can tolerate contact with different media.
According to igus, bearings made from iglidur L350 are suitable for a wide range of applications, from fans, blowers and electric motors to simple household appliances, and are suitable for both new designs and as a retrofit replacement for oil-impregnated sintered bearings.
Plain bearings made of iglidur L350 can be ordered in Australia via Treotham Automation, and the raw material is also available for the development and production of customer-specific geometries and bearing designs.
Treotham Automation
02 9907 1788
www.treotham.com.au