PLASMA COATING COULD DECREASE BONE IMPLANT REJECTIONS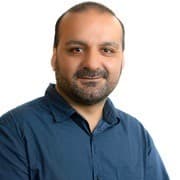 Dr Behnam Akhavan, University of Sydney: "a new class of robust, bio-active surfaces"
A new plasma coating for bone implants has been developed to help improve outcomes for patients by increasing the likelihood of an implant fusing to surrounding bone, and by reducing the chances of complications such as infection or rejection.
An international research team, led by the University of Sydney's School of Aerospace, Mechanical and Mechatronic Engineering, investigated the interaction of plasma-generated coatings with human-derived stem cells, and found that the new coating could enhance the functionality of bone-producing cells, allowing an implant to bind firmly to a host bone.
The findings have been published in the journal Applied Materials Today. The paper's lead author, plasma surface engineering expert from the USyd's Faculty of Engineering Dr Behnam Akhavan, says the results are promising and have led to in-vivo testing in the Netherlands.
"Our latest research presents great promise for the creation of a new class of robust, bio-active surfaces for orthopaedic implants," he says.
Australia's ageing population has led to a rising incidence of osteoporosis-related bone fractures, bone cancers and joint replacement. Close to a million Australians have undergone a joint replacement surgery, and another 90,000 devices are inserted each year at a cost of around $1 billion.
However, despite improvements in surgical implant techniques and postoperative care, a significant proportion of these fail due to infection or poor integration with surrounding bone tissue. Implant complications lead to revision surgeries that are invasive, risky and costly for the patient and healthcare systems, with the cost of treating a device failure up to $50,000 per patient.
The research team had previously developed antimicrobial plasma coatings for implants to decrease complications from infection. However, failure to rapidly promote the growth of new bone on implant surfaces leaves them susceptible to poor fixation and loosening, so the team's current work focused on this problem. It believes the application of plasma coatings on implantable devices is a viable approach to mitigating implantation issues by mimicking surrounding tissue.
"We have developed a highly robust plasma coating from a mixture of low-cost argon, nitrogen and acetylene gases that are placed on the implant," Dr Akhavan says. "Bone-signalling molecules are then applied to encourage stem cells to produce bone.
"The implants have been surface-engineered using the plasma technology and will be overgrown with bone-producing cells once implanted in the body, allowing them to firmly attach to bone tissue.
"The mechanically strong coating can remain on the implant surface for long durations, even if it is scratched during surgery. The bioactive molecule coating effectively 'hides' the metallic implant from the body, so it is treated as a biological structure rather than an invasion.
"Rapid implant integration reduces the chance of an implant loosening and failing, therefore eliminating the need for revision surgeries."