PLANE TO MAKE CARBON FREE JOURNEY ACROSS THE ATLANTIC
15-03-2016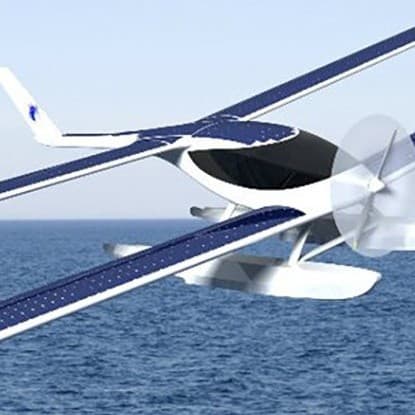 After seven years in the making, Eraole is about to make its first flight over the Atlantic. But what makes this so important. The fact that is runs purely on biofuels and solar energy.
Developed by Raphaël Dinelli a French pilot, scientist, and entrepreneur, the plane is making its first journey I June.
The aircraft is lightweight and is powered by solar cells built in its wings, and when the sun goes down, an algae-based biofuel is used instead.
With 20% of the power being generated as it glides, there is very little effort in powering the craft.
The machine ws created by Dinelli's alternative energy company, Laboratoire Océan Vital.
Although power won't be much of an issue, the aircraft is not automated, meaning that Dinelli will be the one flying it around.
The issues that he's expected to face is a cramped cockpit, and 30% less oxygen than usual because of the non-pressurised cabin, for an entire 60hour flight with no autopilot.  
With a lot of experience in solo flying, he is equipped to tackle the flight.
Looking at how much flying contributes to our carbon emissions is enormous. As the New York Times has reported, one round trip from New York to Europe released 2-3 tons of carbon dioxide per person.
There are small lithium-ion batteries included on the plane for some thrust during take off, but after that, it's solar power for about 25% of the time, 20% being attributed to the time it's gliding, so that leaves 55% if algae biofuel. 
With a cruising altitude of 609 metre and a max speed of 100 km/h the Eraole isn't the fastest plane, as a matter of fact a traditional commercial plane can make that trip in a tenth of the time, but there are hopes that this will be a spark in renewable aviation.
"People investigating non-carbon flight are no longer seen as a bunch of eccentric dreamers," Dinelli told CNN. We can't wait to see it fly.