PILZ TO OPEN NEW HEADQUARTERS IN SINGAPORE
28-07-2016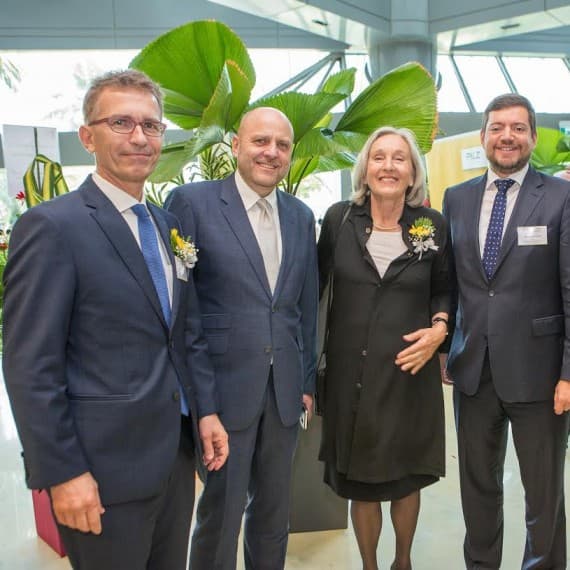 Pilz, a German based innovative automation technology company, has opened its regional headquarters for the Southeast Asia in Singapore.
Pilz South East Asia Ltd., located in the Singapore German Centre, the company will offer ASEAN clients a wide range of products, solutions and services around industrial automation and safety.
Their range includes sensor technology, signal devices, relays and control systems.
The company has plans to have 30 people located in the Singapore location, as it will manage the neighbouring subsidiaries in ASEAN countries such as Thailand, Malaysia, Indonesia and Vietnam.
Dr Mohammad Maliki Bin Osman (Senior Minister of State, Ministry of Defence & Ministry of Foreign Affairs & Mayor, South East District), His Excellency Dr Michael Witter (Ambassador of the Federal Republic of Germany to Singapore) and Ms Renate Pilz (CEO, Pilz GmbH & Co) officially opening the new subsidiary, at the opening ceremony.
Five percent of the global manufacturing market is located in Southeast Asia, and with the sizable shares various sectors such as chemicals, food and beverage, electronics and automobiles, Pilz will be able to leverage a position as an innovative manufacturing hub of Asia, embarking on Industrie 4.0-related engineering and development.
Some of these focus areas include human collaborative robots, flexible automation, and 3D zone monitoring, which combines intelligent sensor technology with effective control systems.
"As a safety ambassador for man, machine and the environment, Pilz is committed to passing on its knowledge and thus creating greater safety awareness locally and in Southeast Asia," Renate Pilz, president and CEO of Pilz GmbH & Co. KG, said.
"Pilz's expansion in Singapore and in the region, meets the increasing market demands for faster delivery times, more intensive sales support and the growing request for consultancy and engineering services.
"Globalization is promoting the creation of uniform standards. Wherever automation happens, the safety standards also rise. This elevates safety to a corporate value: companies can secure competitive advantages through the quality of their safety standards, and thus set themselves apart. The human being remains the centerpiece at all times." he said.
Ms Fong Pin Fen, Director Cities, Infrastructure and Industrial Solutions, Singapore Economic Development Board (EDB) has offered a positive outlook on the establishment of a Singaporean base, as it expands and grows its industry automation business, while adding to the safety of the region as factories ramp up the adoption of newer and smarter manufacturing technologies.
"With Singapore's emphasis on research and development, skills development and strict enforcement of intellectual property rights, the city offers an ideal business environment for family-run Mittelstand companies that are global leaders in niche technological fields to expand into Asia. Pilz's investment is a testament to this and we look forward to supporting the company as it grows from strength to strength in Singapore," she said.