Pilz launches new safety website
31-08-2010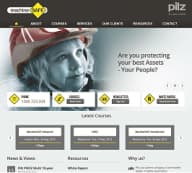 Pilz, a leading supplier of safe automation and safety services, has launched a new look machineSAFE website providing the latest in machine safety information.
The user-friendly machineSAFE website (www.machinesafe.com.au) provides comprehensive safety resources and information covering all aspects of machine safeguarding, safe plant automation and safety related engineering.
The site features upcoming training courses and white papers and videos about industry safety.
It also outlines the range of Pilz consultancy services to assist companies in maintaining a safe workplace.
Pilz Managing Director Scott Moffat says the site makes information on machine safety best practice more accessible.
"The machineSAFE website is a one-stop shop for machine safety professionals, he said. "As well as providing details of our upcoming training courses, we are now offering even more practical resources such as informational videos and white papers, providing up-to-date information for our clients.
"We've also added more details about our consulting services for businesses, which are brought to life through our featured case studies so companies can understand how we can help make their operations safer. The website takes them through the process from risk assessment to system implementation."
An e-newsletter will also be available to keep customers informed of the latest product releases, special offers and new training opportunities.
"We hope that by increasing the accessibility of this information we will raise the bar for machine safety in Australia," said Mr Moffat.