PILZ CELEBRATES 1000th CMSE MACHINE SAFETY AWARD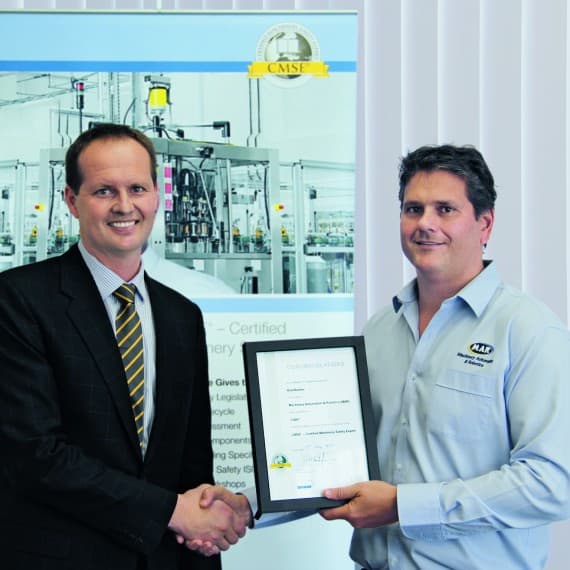 Rod Burton, the Electrical Engineering Manager at Machinery Automation & Robotics (MAR), a leading Australian-based robot integrator located in Sydney, has become the 1000th delegate to be awarded the Certified Machinery Safety Expert (CMSE) accreditation.
CMSE is a collaboration between two international leaders in their respective fields, Pilz and TÜV NORD.  
It is targeted at professionals who require a thorough understanding of the safety lifecycle and who actively lead, coordinate and review the more complex and demanding activities in machinery safety.
Rod, a qualified electrical engineer, was proud to be awarded the 1000th certificate.
"I was very interested in becoming a CMSE as machinery safety is at the forefront of everything we do at MAR, Rod said. "The accreditation demonstrates to our customers that we are abreast of the latest safety requirements and my own competence in this area has been independently assessed and tested.
"With this qualification I can now also mentor, train and guide our engineering team further with safety integration, safety system implementation and of course validation, in confidence."
CMSE has become a standard for internationally certified continuing training in machinery safety in Australia.
In providing this course, Pilz and TÜV Nord are responding to the huge challenges presented by machinery safety both in terms of the standards situation and from a technical point of view. The complexity involved in designing, maintaining and operating plant or machinery has risen significantly, on a worldwide scale.
"CMSE is a great way to demonstrate machinery safety competence in a unique way," says Scott Moffat, Managing Director of Pilz Australia and New Zealand.
"The qualification deals with complex technical issues, conveying the necessary information about a machine's overall lifecycle – from legislation, standards and risk assessment to the application of functional safety principles. There is also a focus on worldwide regulations for occupational health and safety, Mr Moffat said.
"With this qualification Pilz and TÜV NORD are filling a training gap in mechanical or electrical engineering. The issue of safe machinery design is usually only addressed briefly during undergraduate engineering courses; and in most cases engineers only acquire the necessary knowledge through their own practical experiences."
Training is delivered over four days in the form of individual modules containing lectures, discussions, problem solving and practical workshops. The final day is an open book examination conducted by the independent TÜV Nord Group to verify understanding and enable certification.
"We tend to find the CMSE attendees typically have an engineering or maintenance background and are either End Users or Systems Integrators. Most of our attendees have come from the manufacturing, food and beverage or mining industries," said Mr Moffat.
Those who successfully pass the exam and obtain the TÜV Nord certificate as CMSE® are recognised worldwide as machinery safety experts.
Delegates are not the only ones to benefit, companies do too: they are presented with technically qualified staff who can implement safety across the company. Machinery safety experts are also able to implement tailor-made safety solutions and can share their knowledge with other staff on site. Ultimately companies can be secure in the knowledge that their operation, machines or services comply with the legal specifications.
Further CMSE courses will be held on:
·       August 11 - Brisbane
·       August 18 - Melbourne
·       November 10 - Auckland
·       November 17 - Sydney
For further information and bookings visit www.machinesafe.com.au.