PHOENIX CONTACT RELEASES NEXT GENERATION POWER SUPPLIES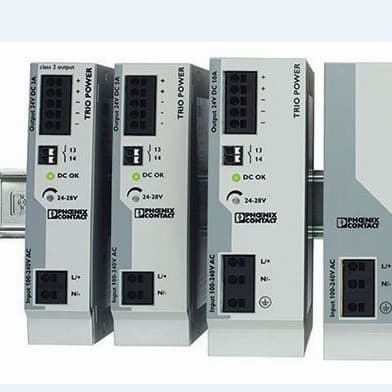 Leading global electrical engineering manufacturer and innovator, Phoenix Contact, has set a new industry benchmark with the release of its next generation TRIO 2 Power Supply range.
Feature-rich and extremely robust, the new TRIO 2 series ensures the reliable supply of all loads even under the harshest ambient conditions.
Perfect for machine building as well as water operations, industrial and manufacturing plants, building services, renewable energy, ship building and process technology, the TRIO 2 Power Supplies have been created to perform. The devices deliver peace of mind for users as their robust design and quality components provide a continuous and reliable flow of power.
Powerful and highly robust, the devices have an exceptionally high MTBF (Mean Time Between Failure) value of more than 1 million hours at 40°C because of the quality components inherent in the smart design of the TRIO 2 range. These reinforce the units' inbuilt resilience and reliability.
The TRIO 2 series also provides for the reliable starting of heavy loads with an overload capability of 150% for 5 seconds, thanks to its dynamic boost feature. This securely absorbs starting currents and short overload situations during operation without a drop in output voltage. Plus, the series rugged electrical and mechanical design ensures that they can withstand high shock and vibration. The devices can endure high electrical transient surges due to increased isolation between the input and output connections.
Offering maximum flexibility and user convenience, the TRIO 2 range features an extensive temperature range of -25°C to +70°C and device start up at a
low -40°C.
Designed to be hassle-free, the push-in connection technology on the front of the TRIO 2 range enables fast and easy connection. The wiring of the devices is tool-free, saving the technician precious time and minimising the opportunity for human error and the need for rework.
In addition, the TRIO 2 power supplies feature a very slim design. Highly compact, the 1phase 20A unit is just 68mm wide to help save on space and for easy handling.
Available in 3 Phase which can operate in 2 phase with no degradation, or single phase models, the next generation TRIO 2 Power Supplies deliver increased performance for those requiring reliable power for long term applications.
Contact Phoenix Contact for more information.
Phoenix Contact
Ph: 1300 786 411