Safety in the Workplace, News
Published 18-02-2021
| Article appears in February 2021 Issue
PFD Food Services improves safety with A-Safe's bright bollards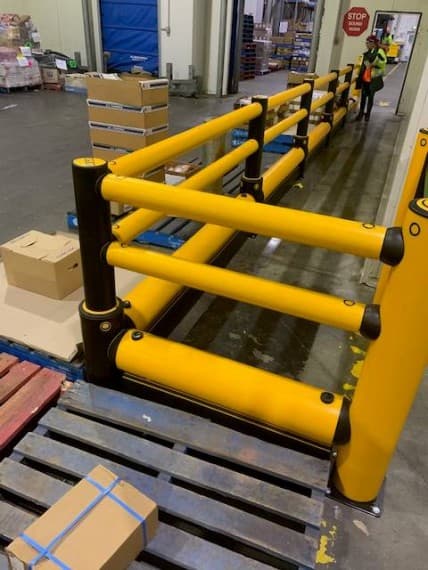 Safely moving large palettes on forklifts in tight spaces can be a challenging ordeal. Add in staff and pedestrians to that mix and it increases the likelihood of something going awry.
That's why the team at PFD Food Services turned to A-Safe to improve their Brisbane warehouse workflow and ensure the products supplied to customers are safe and meet food safety requirements.
"Like most warehouses, we had steel barriers around our walkways and in front of walls," says Operations Manager David Pashen, whose family-owned company delivers a range of food products and cleaning solutions to the hospitality sector, aged care facilities and schools.
"They were dull and grey, meaning safety was a concern. And because of their age, it was not looking like it should look, maintenance on it was increasing and it didn't do the job which it was put there to do.
"When anyone hit the steel barriers, the forklift was damaged, the concrete was damaged or the safety of employees was risked," he tells Industry Update.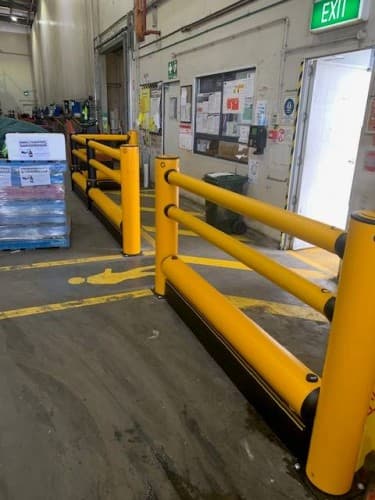 A-Safe has been setting the global standard in workplace safety for almost two decades. From warehouses, cold storage and manufacturing facilities to car parks and airports.
They provide rigorously tested and certified industrial impact protection for a range of specialist applications. Services include a site survey, along with product recommendations and costing, as well as expert installation.
A-Safe customers benefit from improved workplace safety, increased operational efficiency, as well as reductions in facility maintenance, repair costs and down time. With over 35 years of industry experience, A-SAFE is trusted by some of the world's best-known brands, including BMW and Amazon.
Designed to stop forklift trucks and other industrial vehicles, their barriers are the most heavily tested safety barriers in the world. A-Safe polymer safety barriers are impact rated, compliant with code of practice PAS 13 and verified by TÜV Nord.
iFlex Pedestrian Barrier 3 Rail is ideal for facilities with lightweight vehicles operation or if there a risk of shallow angle impact accidents. The flexible, energy-absorbing barriers visually define traffic routes and physically protect pedestrians and drivers in the event of an impact by cushioning and deflecting impact forces.
Mr Pashen came across A-Safe's recognisable bright yellow polymer products. He had site survey and demonstration and promptly went ahead and installed iFlex bollards and railings, in addition to gates, in 10 per cent of the work areas at PFD Foods.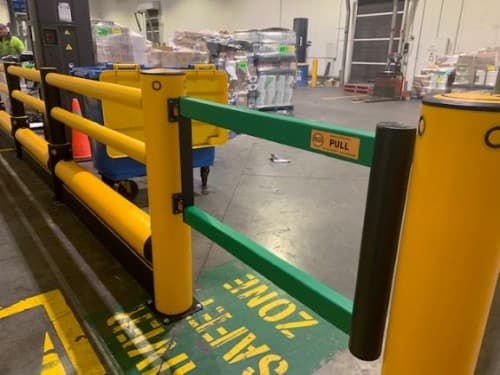 The iFlex Single Traffic Barrier+ installed at PFD Foods is ideal for high-traffic environments, where pedestrian traffic and heavyweight vehicles both share space. 
They were so successful in mitigating accidents that more were installed and are currently trialling the A-Safe RackGuard.
"Staff interaction is excellent. They don't seem to hit them as much as they hit the steel," he says.
"They're very visible and they actually look like a barrier should.
"It's neat and tidy and from a safety concern, if you hit one, there is a rebound factor."
Mr Pashen also praised A-Safe's customer service and installation team, saying the fit-out was quick, efficient and had minimal disruption to the business.
"The team that that came to Brisbane to install the bollards were absolutely brilliant," he says.
"Our CEO visited recently and she put a huge tick against it. She said it was excellent and would like to see A-Safe installed in some of the other warehouses."