Published 15-08-2019
| Article appears in August 2019 Issue
PETROL PRESSURE CLEANERS TACKLE INDUSTRIAL CLEAN-UPS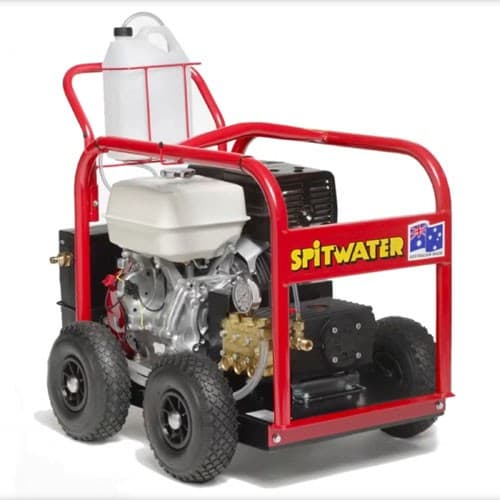 For many years in Australia, the name Spitwater has been synonymous with heavy-duty pressure cleaners. And the company's latest flagship model reinforces that association while taking the company's range to new levels of performance and rugged reliability.
Spitwater produces a range of diesel- and petrol-powered slow-speed cold-water pressure cleaners that are ideally suited to outdoor cleaning.
The new top of the range Model HP251/A is powered by a 13hp Honda industrial petrol engine coupled to a slow-speed Italian-made Interpump brass-head pump.
However, rather than connect the engine and the pump in the conventional way via a gearbox, Spitwater's engineering team took the brave decision to re-imagine the linkage and opt for a belt drive instead.
The problem, according to Spitwater NSW's Milo Gajin, was the reduction ratio required. The Honda engine operates efficiently at around 3600rpm, while the pump runs best between 1000 and 1750rpm. So any rigid gearbox would be subjected to extreme loads, leading to high stresses, accelerated wear and probable early failure.
In the new design, the engine and the pump crankshafts are each fitted with suitably sized pulleys that are linked using Spitwater's own Oz-Tuff toothed, flexible, rubber belt, which provides a rugged and reliable transmission that reduces the stresses on both crankshafts.
With the belt drive enclosed by a metal cover, the transmission is fully maintenance free. And in testing out the design, the engineering team was delighted to find that the belt drive was actually more efficient than a gearbox, saving as much as 3hp of the engine's power (which translates directly to fuel savings).
"It's a very smart design," says Gajin. "But the beauty of it is that it has allowed us to bring together the best of both worlds: the Honda engine has legendary reliability and the Interpump really is the Rolls Royce of the pump world for this kind of application."
That highly praised pump has a brass head and solid ceramic pump pistons that are both self-lubricating and wear-resistant, providing a reliable 15L/min water flow and a huge 250bar of pressure.
Designed and built in Australia for Australian conditions, these rugged pressure cleaners have an all-steel construction and also feature a water-cooling tank to stop the pump from overheating. There are four wheels with large pneumatic tyres to aid manoeuvrability. And there's the peace of mind of a three-year Australia-wide warranty on the Honda engine.
Spitwater
1800 172 005
www.spitwater.com.au