PERMANENT-ELECTROMAGNET TECHNOLOGY FOR LIFTING STEEL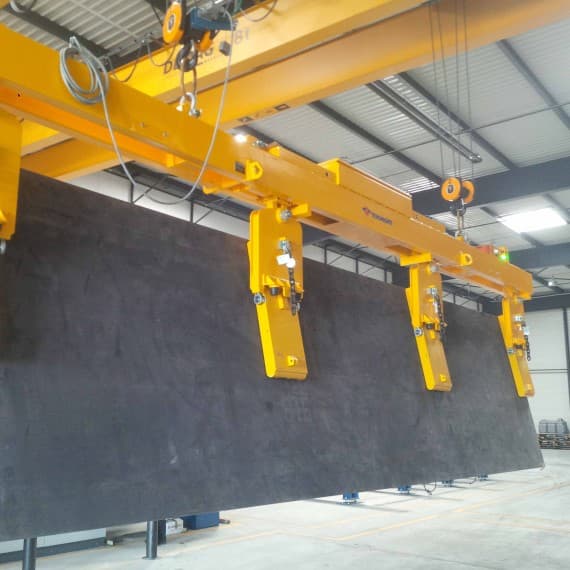 Permanent-electro technology offers significant advantages over conventional electromagnet lifting systems in many applications.
Lifting magnets using conventional electromagnet technology have served industry well, and will continue to do so in some applications. However, the advantages of permanent-electromagnetic lifting systems are making this technology the preferred choice for many operators.
As the name indicates, permanent-electromagnets employ both permanent magnets and electromagnetic induction to provide a system that consumes much less power than conventional electromagnetic lifters. The technology also provides the intrinsic safety of a permanent magnet in contact with the load and, most importantly, does not require expensive and often bulky battery backup equipment; nor does it require the additional maintenance associated with such systems.
With this technology, permanent magnetic elements in a north-south-north grid pattern at the lifting face of the magnet are magnetised using electric power for a moment. The lift is then effected using only permanent magnet power. Once the lift is completed and the load is at rest, another shot of power demagnetises the permanent magnet elements and the load is released.
This means that the system runs cool, whereas conventional electro lifting magnets generate large amounts of heat and therefore need to be operated on a duty cycle that prevents over-heating. In comparison, up-time with permanent-electro lifting magnet systems can be 100%.
Also, because power is required only momentarily during energise and de-energise actions, permanent-electromagnetic lifters use as much as 95% less energy over their lifetime.
The picture shows a typical large plate lifter (the Tecnomagnete model TB) that can tilt to lift plates stored vertically and then place them flat on a cutting bed or a floor.
Serpent & Dove - Applied Magnetics
02 9971 7577
www.serpent-dove.com