PERISTALTIC PUMPS ARE SAFER AND EASIER TO MAINTAIN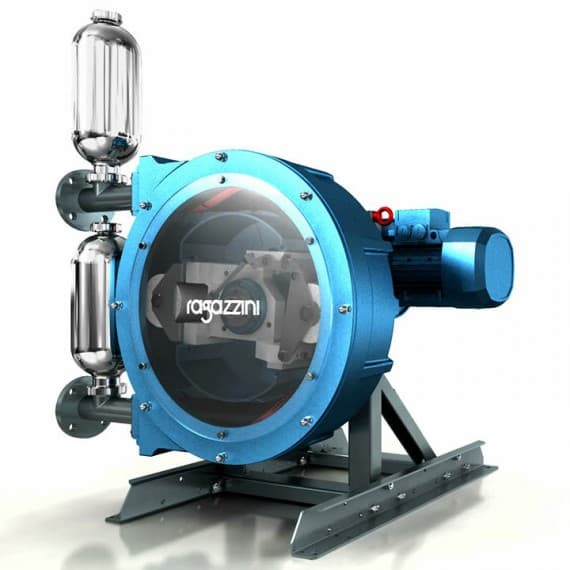 Available now from Hydro Innovations, the Ragazzini Rotho range of positive displacement peristaltic pumps features a "roller on bearings" design so that the pump housing does not need to be filled with lubrication fluid. This makes them both safer and easier to maintain.
The pump is self-priming, seal-less, can run dry without damage, and apart from the flanges, only one part is in contact with the pumped fluid.
The system is widely used in water and wastewater treatment, the food and beverage industry, chemical industry as well as construction, among others.
Ragazzini pumps are available with a wide variety of hose options to suit abrasive and/or corrosive applications and are also available with food grade hoses that can be sterilised with hot water or steam.
The built-in leak detector is a float type sensor and is located at the lowest point in the pump. The speed of action of the detector, coupled with the fact that the pump casing is not filled with lubricating fluid, minimises contamination and product loss.
Ragazzini peristaltic pumps are perfect for clean in place or sanitise in place applications when fitted with the optional "retractable roller".
In this system one of the rollers can be retracted via an over-centre rapid release cam and lever system. This enables full flow of a flushing/cleaning/sanitising fluid through the hose.
This new positioning system is essential for fully automated foodstuff handling applications that require regular cleaning and sterilisation of all the components in contact with the product.
These pumps can deliver as little as 0.2L/h, and as much as 180kL/h.
Pressures up to 15bar can be achieved, and solid particles can be passed through the pump. It can also be run in reverse, making it ideal for tank emptying and filling operations.
Hydro Innovations
02 9898 1800
www.hydroinnovations.com.au