Product News, Plant & Machinery
Published 03-06-2021
| Article appears in June 2021 Issue
Peristaltic pump puts paid to problems with sludge transfer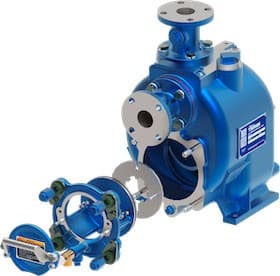 Teys Australia, one of the largest meat processors and exporters in Australia, was looking for a dependable solution for its DAF tank sludge and scum transfer at its plant in Beenleigh, Queensland. The company had used submersible pumps and double diaphragm pumps in the past, but with limited success. A Hydro Innovations pump specialist recommended the use of a Ragazzini peristaltic (hose) pump for the application.
Ragazzini hose pumps are positive displacement pumps using a set of rollers to compress an elastomeric tube that pushes the fluid contained within it. This means that no mechanical moving parts are in contact with the fluid being pumped, and there are no valves or seals to ever replace. And because the pumps use rollers and not "shoes", the casing does not need to be filled with an expensive lubricating fluid.
Teys needed to transfer up to 10 cubic metres an hour of the sludge, so Hydro Innovations recommended the Ragazzini MS3 peristaltic pump with fully cast casing, cast iron rotor and castiron rollers.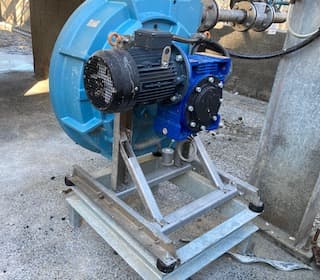 The pump needed only to run at the slow speed of 26 rpm to meet the duty, so the pump is expected to have a very long service life. It is also fitted as standard with a leak detector that instantly detects a damaged hose. The leak detector stops the pump and sends a warning signal. Pumps are mounted on stainless steel base frames and are supplied with 316SS ports.
The pump was duly ordered and installed. An operator at the plant commented that "it was easy to install and works very well, with little maintenance. A great feature is not having to fill the roller section with glycol, and the quiet operation of the pump," he said.
He said we would certainly recommend the pump to others and it was a "great pump and does the job above expectations".
The operators at the Teys Abattoir are very pleased to have a reliable solution to the previous problematic sludge and scum transfer system. The abattoir has been so happy with the installation, it has since rolled this new technology out to other branches around the country.
Ragazzini pumps are available in sizes ranging from 10mm ports up to 150mm, with flows from 0.2 litres per hour up to 180 cubic metres per hour, with pressures to 15 bar. Various pump hose materials allow pumps to move abrasive fluids, corrosive fluids, fats, oils, along with FDA approved hoses for foods and pharmaceutical products.
With a rich Italian history of innovation and quality manufacturing excellence, Hydro Innovations is very pleased to represent Ragazzini in Australia. More information about these pumps may be obtained from Hydro Innovations at Info@HydroInnovations.com.au