Perfect packing solution from Sippel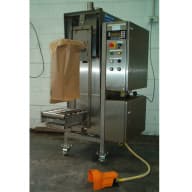 The locally developed and manufactured all-stainless Sippel HiTech 2000 Electronic Weigh-Packing Machine delivers solid performance with minimal maintenance.  
The unit is ideal for packing a broad range of materials from 2 to 40kg.
This includes salt in 15kg to 25kg packs or small mesh gravel in 5kg packs.
Part of the Sippel HiTech product range, the 2000 Electronic Weigh-Packing Machine is not only hygienic, it is also highly accurate.
The machine's versatility enables a large variety of containers to be weigh-packed efficiently, including plastic, woven, paper or a combination of these materials.  
Fine dry emulsions, pastes, powders, granules and mixtures of these can be handled quickly and efficiently – even some materials with moisture/fat content.
They are then particularly suitable for use with food, chemicals, minerals, cementicious and some corrosive products, such as salt.
Packs or containers to be filled can be open-top bags, valve bags, drums, large cans, tote bins cartons or boxes.
All machines feature stainless steel in product flow, which provides improved wear properties with anti-contamination of product.   
Clean-out between products/batches is enhanced by easy access and exchangeable hoppers or other change parts, which can save time and risk of different batch or colour contamination.  
Change parts are limited to between 1 to 4 easily accessible bolts or screws for exchanging in only a few minutes.
Design is compact allowing for good operator and rear access. Narrow width allows ganging for multi-spout operation. 
Other features include carbon-ceramic ring dust seal on auger bearing shaft, with the added feature of controlled low pressure dust exclusion device.