PEAK BODY CELEBRATES 20 YEARS, LOOKS TO A BRIGHT FUTURE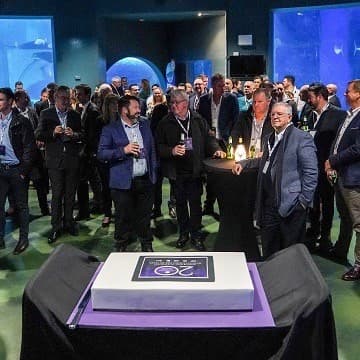 AMTIL, the Australian Manufacturing Technology Institute Limited, has celebrated its 20th anniversary with a cocktail reception at the Sea Life Aquarium, Melbourne on 8th August. The event was attended by more than 180 industry leaders from manufacturing businesses across Australia, as well as representatives from manufacturing technology suppliers, government and industry bodies, universities and research organisations.
AMTIL CEO Shane Infanti, who has been with the association since the beginning, noted that this anniversary coincided with a strong resurgence in Australian manufacturing.
"It's great to be celebrating 20 years of AMTIL at such a positive time for our industry," he said. "There's been a lot of pessimism in recent years with the GFC and the car industry closures, but right now we're just seeing exciting stuff going on all across the sector. So tonight's event isn't just about looking back on 20 years of AMTIL; it's about looking forward to what I think is a very bright future for Australian manufacturing."
AMTIL is the peak national body for the precision engineering and advanced manufacturing industry in Australia. It was founded on 11th August 1999 as a result of the merger of the Institute of Machine Tools Australia and the Australian Machine Tool Association, and today has a membership of manufacturing companies and technology suppliers across every state and territory.
Since its establishment, AMTIL has conducted a range of activities to support the industry. It organises various industry events, most notably Austech, Australia's premier advanced manufacturing technology exhibition. It produces a number of publications and reports, including the industry-leading AMT Magazine. Moreover, it is a partner organisation on government initiatives at both federal and state level, such as the Entrepreneurs' Programme and the Additive Manufacturing Hub (AM Hub).
Manufacturing in Australia has changed dramatically over the last 20 years, and AMTIL has changed and evolved with it. But according to Infanti, the need to support and promote the interests of the industry remain as important as ever.
"Australian manufacturing needs to constantly adapt if it is to prosper and grow, and at AMTIL we're committed to helping facilitate that," he said. "This May we ran our most successful Austech exhibition to date. The AM Hub, which we launched last year, is proving to be a great success. And there are plenty more initiatives in the pipeline. We're looking forward to supporting Australian manufacturing for many more years to come."