PASSIVE ISOLATORS OVERCOME WORKPLACE NOISE CHALLENGES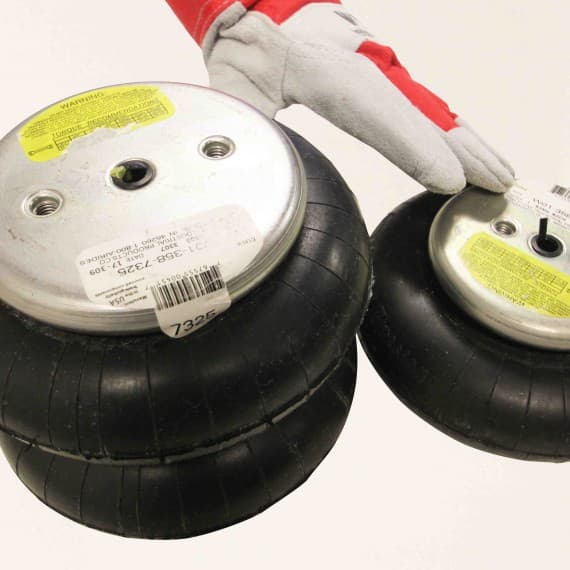 As workplace noise OH&S regulations increase across federal and state jurisdictions, industrial operations and engineering staff are being challenged to find the most effective, cost-efficient and reliable solutions to the issue of vibrating and intrusive machinery.
The choice often lies between less expensive and less complex passive vibration isolation – which makes use of materials and mechanical linkages that absorb and damp mechanical waves – or active vibration isolation, which often involves sensors and actuators that produce disruptive interference that cancel-out incoming vibration.
One proven, unique and cost-effective passive solution is offered by air springs, which are the only passive isolator that operates on the principle of compressing a gas rather than deflecting a solid.
Because of this difference (compared with isolators such as coil springs and solid rubber pads) air springs are the passive isolator with the lowest natural frequency – and the lower an isolator's natural frequency, the better the isolation effectiveness. Typically, inflated at 3-6bar, air springs will deliver isolation efficiencies exceeding 90 per cent.
This efficiency can be further improved because air springs (such as the Firestone Airmounts supplied throughout Australia by Air Springs Supply) are also the only passive isolators that can achieve a reduction in the natural frequency (the frequency at which a system tends to oscillate in the absence of any driving or damping force).
With the use of an auxiliary reservoir, air springs can lower the natural frequency to further improve isolation effectiveness to even finer degrees (which can exceed 99.9 per cent vibration isolation in demanding applications).
This versatility makes Airmounts ideal for use to isolate anything from compressors and generators to vibrating bins and screens and other materials handling equipment. They are also suitable for isolating automation and computer equipment from environmental disturbances.
Airmount air springs from Air Springs Supply are available in individual capacities from a few tens of kilograms to 40t. The broad range of Airmount isolators and complementary Airstroke actuators are supported by Air Springs Supply's long-established national sales and technical support network.
Air Springs Supply
02 8877 5500
www.airsprings.com.au