PASSENGER DRONES: HOW FEASIBLE ARE THEY?
16-02-2017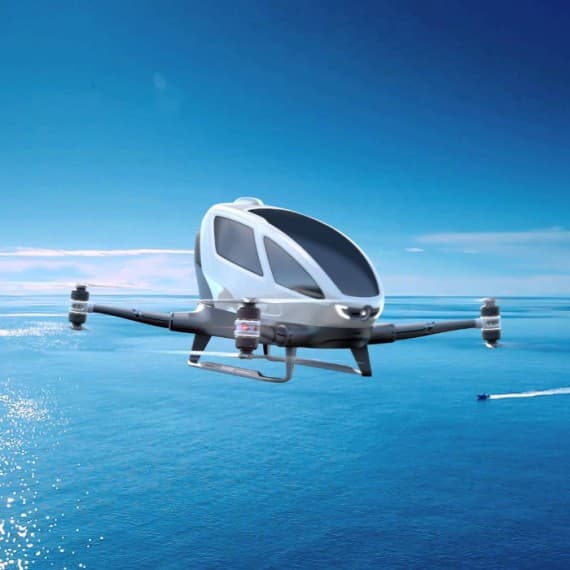 Dubai, a city that has been often described as a 'city of excess', has unveiled plans for automated passenger drones to carry people across the city. 
These plans, while ambitious, will lay the groundwork for this seemingly luxurious method of transportation to become mainstream. 
The drone in question is the Chinese model eHang 184, which has already taken test flights over the city. It can carry a single passenger of no more than 100kg, and has a half-hour maximum flight time with a range of 50km. 
The passenger uses a touch screen to select a destination. There are no other controls inside the craft, and the entire trip from takeoff to landing is automated. 
Dubai is well-suited to trials for this technology, boasting a huge excess of wealth, relatively low average windspeeds, and high motor car congestion. 
Mattar al-Tayer, the head of Dubai's Roads and Transportation Agency, announced plans to have the craft regularly flying at the World Government Summit. 
Dubai's ruler, Sheikh Mohammed bin Rashid Al Maktoum, announced in April he wanted 25 percent of all passenger trips in the city to be done by driverless vehicles in 2030.
To that end, Dubai already has had the box-shaped driverless EZ10, built by France's EasyMile, cruise nearby the Burj Khalifa, the world's tallest building.
Dr Steve Wright, senior lecturer in avionics and aircraft systems at the University of the West of England, emphasised the importance of safety during an interview with the BBC.
"The way these systems work, making them work normally is easy. The tricky bit is making systems that are resilient to failure," he said.
"I would like to see the drone flying for at least 1000 hours before I saw a human in it."