PAPERLESS PRE- AND POST-DELIVERY INSPECTION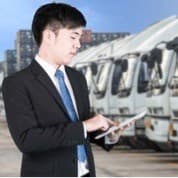 Safety inspection is fundamental in any environment. When renting or hiring, common assumptions of whose duty it is to inspect can sometimes leave equipment unchecked, which becomes an issue when breakdown or damage occurs.
Top rental businesses ensure that their equipment is pre- and post-inspected with digital inspection applications. Paperless tools allow firms to take accurate checks of their assets and keep a close eye on when repair or replacement may be necessary.
Rental of equipment is based on mutual interest, with one party providing assets that the other does not possess for less cost than investing in and maintaining such assets. In such exchanges, assumptions of safety, performance and reliability are made because the renting firm inspects its equipment.
As a rental business, it's your responsibility to ensure that everything being rented or hired is fit for use, which involves making pre- and post-delivery inspections of all equipment, chiefly regarding how it performs against safety regulations and manufacturers' specifications.
These days, many digital inspection applications allow easy tracking of safety regulations. For many trucks, heavy machines and mobile equipment, there are specific regulations that are fundamental to follow to ensure conformance to safety, and premium paperless solutions now allow these to be directly integrated into the relevant checklist.
Likewise, it's also crucial that performance, wear and damage are consistently checked and documented, as these can impact the long-term lifespan and performance of an asset. These can easily be measured and recorded with pictures on a mobile device application, either a tablet or smartphone, and a custom checklist can require pictures of certain parts, with annotations enabling inspectors to highlight the progression of any deficiencies.
As inspections are done using a mobile device, reports are stored digitally. This can be done either in-house or via the cloud (software as a service), both options allowing 24/7 access to the entire database of reports, photo histories of wear and damage, compliance with regulations and full cradle-to-grave life-cycle tracking.
This ensures that management can make good ROI analyses and gain a comprehensive oversight of general performance. It also allows maintenance and repair teams to compare the previous inspection reports as well as GPS/date/time timestamp and usage data to better understand if the issue is environmentally induced or a result of long-term degrading.
For any pre- and post-rental inspection, it is important to have the best management inspection tool and checklist available. Today, the market leader is paperless inspection applications. As well as providing a dynamic tailored software package for easy integration into your business, digital inspection applications are a straightforward way of taking your business digital. Customisable checklists on your mobile device means your inspectors can quickly and efficiently carry out pre- and post-rental inspections and improve efficiency.
Pervidi
03 8862 6485
pervidi.com.au/