PANEL METERS ENABLE OPTIMAL CONTROL OF ENERGY CONSUMPTION
22-05-2018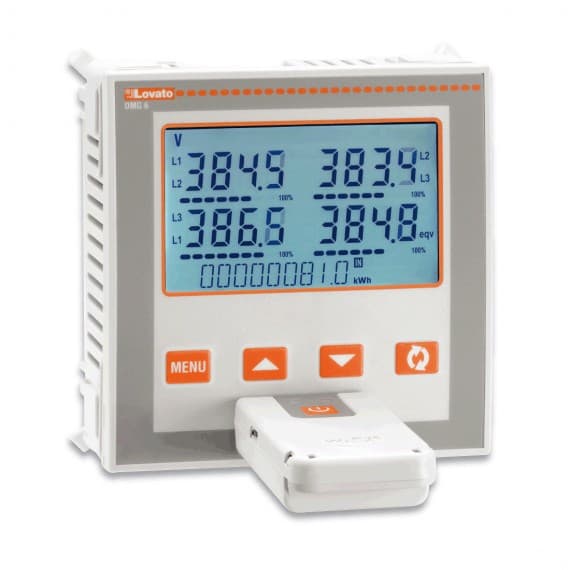 Available now in Australia from Mechtric, the Lovato DMG600 Series of panel-mount digital multimeters provide comprehensive power measurement capabilities to enable optimal control of energy consumption.
The DMG600 and DMG610 promise high measurement accuracy over a wide range of parameters, with energy meters provided for active, reactive, apparent partial and total values, as well as per phase and system values. This makes them suitable for use in LV, MV and HV single- and three-phase electrical systems and installations.
What really sets the DMG600 Series apart from the field is the range of connectivity options supported. A front-mounted optical port enables the connection of optional USB and Wi-Fi interfaces, and the DMG610 model has an inbuilt RS485 serial port. And a rear expansion port enables further interfacing by adding USB, RS232 or RS485 serial and Ethernet communication ports.
Furthermore, the DMG600 Series can be interfaced with smartphones and tablets using a free app that enables both configuration and data download.
Limit thresholds can be set on all measurements to generate alarms or activate outputs should they be exceeded. The user can decide whether to activate limits for maximum or minimum values, or both, with management of activation and deactivation delay to protect the system from unnecessary tripping and hysteresis thresholds to prevent oscillation around the trip value.
There is also a novel "maximum demand" power management feature that limits the maximum active power demand available to the user, based on the supply contract and calculated as an average within a time window tracked by digital signals sent by the energy supplier through the meter. By setting a limit threshold on this value, the meter can activate outputs to disconnect low-priority loads, thereby reducing system power consumption.
Mechtric
1800 252 995
www.mechtric.com.au