PANEL TO EXAMINE ENERGY COST SAVINGS FOR MANUFACTURERS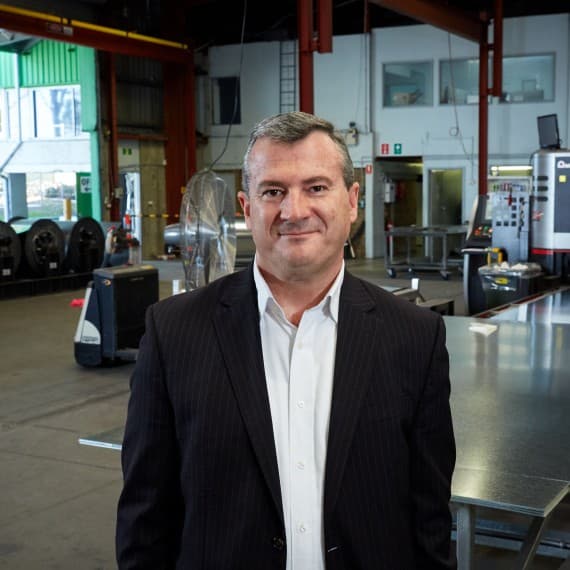 Matthew Kelly, Head of Manufacturing and Wholesale NSW for St.George
One of the most eagerly awaited sessions within the NMW 2018 conference will be a Case Study and Panel Discussion on "Supporting energy solutions", which will be held in the Industry 4.0 Theatre at 2.40pm on Thursday 10th May and will be sponsored by Industry Update.
The initiative for the session comes very much from St.George Bank, and is part of that organisation's drive to support Australian manufacturing industry.
Matthew Kelly, Head of Manufacturing and Wholesale NSW for St.George, explains: "When St.George adopted the industry model three years ago, I personally jumped at the chance to take on the manufacturing sector, because it was clear that we were the only bank focusing on manufacturing industry."
Kelly and his team of manufacturing specialists have assembled an impressive array of consultants and experts that enable them to have (as he puts it) "industry conversations, rather than banking conversations" with manufacturers.
"Our real aim," he continues, "is to add value to manufacturers by helping them to strip out costs." This might be, for example, by performing a free R&D review and identifying what federal and state grant aid might be available. Or it might be acting as an interface between manufacturers and educational institutions both at an innovation level and at a staffing level.
Today, however, the area of energy efficiency has come very much to the fore, with manufacturers of all sizes looking for ways to reduce their power bills.
Kelly is keen to point out that "it's not just solar", pointing to St.George's partnership with energy efficiency consultancy Verdia – a relationship that has been working well for the past two years.
John Werner, who heads up Verdia's Project Advisory business will also feature on the panel at NMW, as will Jason Marsh, Operations and Engineering Manager at Weathertex, who will describe his company's experiences in navigating through the maze of technologies and providers of advice before arriving at a solution with St.George and Verdia.
Also featuring in the panel discussion will be Besa Deda, Chief Economist of the St.George Banking Group, who will set the scene by giving her insights into the current shape of the business and economic environment.
Obviously, return on investment is the key metric in any improvement project, and according to Matthew Kelly, the aim is for a payback within three years with no disruption to manufacturing operations.
And, he is keen to point out that it is a key role of any consultant in recommending such a course of action that the providers chosen will still be there for the duration of the project – indeed the full warranty term.
Clearly, the recent volatility in the Australian energy market has made energy efficiency projects even more appealing to manufacturers of all sizes. Says Kelly: "18 months ago there was some interest, but it was low on the priority list for most manufacturers. Now manufacturers are re-assessing their energy use and need help in solving the energy equation – and that includes many of the largest users in manufacturing industry, such as steel and aluminium companies."
The "Supporting energy solutions" Case Study and Panel Discussion at NMW 2018 will give all manufacturing companies some food for thought on how to achieve significant cost savings and improve the bottom line.
Says Matthew Kelly: "We are more than happy to meet with any manufacturer or wholesaler and share our industry insights. For us, it's all about the conversation."