PALLET REPAIR FACILITY HOSTS FIRST PRINTED SOLAR INSTALLATION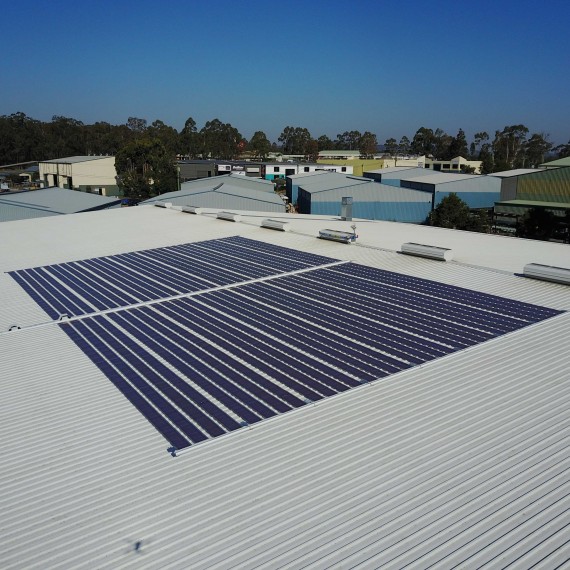 A new form of low-cost renewable energy is nearing the market with the unveiling this week of Australia's first commercial-scale organic printed solar installation at the CHEP Beresfield pallet repair facility in Newcastle.
The organic printed solar cells are have been created by a University of Newcastle team led by Professor Paul Dastoor, and were manufactured in-house on a lab-scale printer at the university's Newcastle Institute for Energy and Resources facility.
According to Prof Dastoor, "This is the first commercial uptake of printed solar in Australia, most likely the world. It's an historic step in the evolution of this technology and another example of private enterprise and community leading the charge in the adoption of renewables."
The printed solar cells come in the form of a roll of ultralightweight laminate material that is installed using standard industrial double-sided adhesive tape, and costs less than $10 per square metre.
The installation at the CHEP facility covers 200m2 of the roof and was made up of 640m of the solar cell material, which was installed by a team of five in just one day.
The installation was unveiled at a ceremony on Thursday, with the official opening conducted by Federal MP for Newcastle Sharon Claydon, who highlighted the University's work on the project as "exactly the work the Australian Government should be supporting."
CHEP is a Brambles company, a group that has its origins in Newcastle, and Claydon went on to praise the role of Brambles in the project as a "great global citizen."
Brambles is no stranger to renewable energy, with the company's Senior Manager for Sustainability, Lachlan Feggans, pointing out that globally, the company currently uses 20% renewable energy – a figure that will certainly rise as part of its embracing of the circular economy model.
According to Feggans, "Our cost benefit analysis of PV solar shows that it isn't viable just yet. But this printed solar could be a game-changer."
Feggans went on to highlight this year's increases in energy costs, which for Bramble meant a 52% increase across Australia. "We have to consider the energy cost per pallet," he concluded.
Meanwhile, the printed solar installation is up and running at CHEP, and will provide University of Newcastle team with valuable data on the commercialisation of the technology. And at mid-day on the official opening day, the installation was producing 699W per square metre.
While the solar cells themselves are nowhere near as efficient as conventional PV cells, they are much cheaper and quicker to manufacture, much lighter in weight, and much easier to install. They also suffer from a considerably shorter operating life – currently calculated at around two years.
The CHEP installation is scheduled to run for just six months, after which the cells will be removed and recycled. Says Prof Dastoor: "My goal is to completely recycle the old material and use that resource to manufacture new solar cells."