Pallet dispenser saves space and reduces injury risk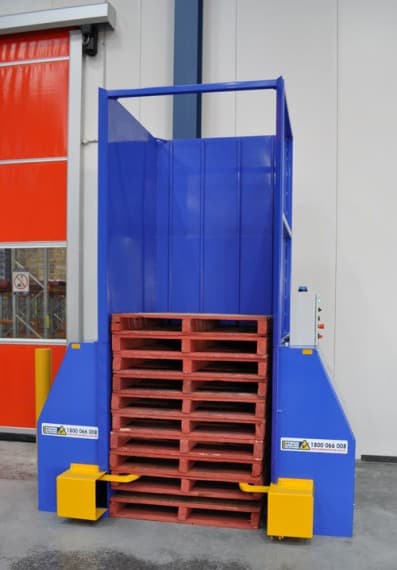 When Australia's largest privately owned logistics company needed to streamline its warehouse operations, it turned to Optimum Handling Solutions.
Linfox Logistics operates more than 3.8 million sqm of warehousing across 10 countries.
Therefore, making the best use of every square metre makes good financial sense.
At the same time, Linfox wanted to minimise the risk of staff injuries.
Previously, forklifts assembled and dissembled stack of pallets. This required considerable manoeuvring room.
They couldn't be stacked too high for fear of collapse – and frequently needed manual handling was both time-consuming and posed a risk to staff.
Optimum Handling Solutions designed and manufactured an efficient pallet dispenser which holds up to 15, 20, 25, 45 or even 90 pallets. It can dispense them at a rate of 120 an hour.
The pallet dispenser does the lifting, therefore pallets can easily be retrieved by ride-on or manual pallet trucks.
Pallets can be easily collected and taken away even when the stack is 90 pallets high, with each new pallet added or dispensed from the bottom of the stack – a much safer and quicker alternative than using a forklift to remove one from the top of a pile.
By installing the units in its new distribution centre, Linfox was able to create "forklift free zones."
This entirely eliminated the manual handling of pallets, helping to avoid back, foot and finger injuries that lead to Workers' Compensation claims and lost time.
Also, pallet damage caused by careless handling was reduced.
Linfox has increased staff productivity by making the best use of space in the new centre and reducing the wasted space occupied by short pallet stacks.
Optimum Handling Solutions
Ph: 1800 066 088
www.optimumgroup.com.au