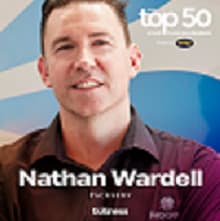 Bravo to Nathan Wardell of Packserv who has just been announced as one of the Top 50 Small Business Leaders
Awarding forerunners in the SME sector, the Top 50 Small Business Leaders report is a prestigious one, recognising those that have made outstanding
contributions to their clients, community and society at large.
The winners demonstrate resilience, agility and the skills to take their business forward into a brighter future.
Proudly Australian, Packserv is the country's leading packaging machinery and technical services provider.
Their impressive range includes machines for volumetric filling, capping and container handling functions including conveyors in-feed and out-feed
tables. Along with this, Packserv's capabilities extend to providing rentals for on-demand packaging equipment for filling, capping, labelling, printing and sealing.
While Nathan's family have been prominent leaders in the industry for over 40 years, his own path to becoming Managing Director of Packserv
wasn't typical. Nathan began his career amid pots and pans, working and training as a chef in the hospitality industry. Deciding he would leave this to Jamie Oliver, he then
earned his qualifications in accounting and management, working for several years in this sphere.
In a further incarnation, this son of a machinery designer and builder started up Packserv as sole proprietor, growing the business from the ground up.
Fourteen years on, Packserv has achieved remarkable feats in terms of growth and innovation, despite the incredible challenges most Australian companies have faced during this global pandemic.
One of Packserv's biggest achievements was winning funding from the Australian Government's Entrepreneur's Program and a partnership with Business Australia, which led to the company relocating to bigger premises in Marrickville, Sydney.
Along with this, the company has opened a Brisbane office in addition to their Sydney and Melbourne locations.
"It is only the beginning," Nathan says.