PACKED PROGRAMME AT WORKPLACE HEALTH & SAFETY SHOW 2019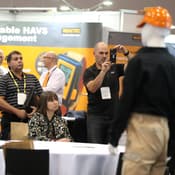 The Workplace Health & Safety Show 2019 will take place at the Sydney International Convention Centre on 22nd and 23rd May, and include exhibits by more than 100 world-leading health and safety brands, educational seminars, forums and round-table discussions.
The event is free to attend, and registration is available at www.whsshow.com.au.
More than 100 manufacturers and service providers are exhibiting this year, including safety systems and personal protective equipment products, health services, software developers, including major exhibition sponsor myosh, industry associations and professional societies, government agencies and education providers.
The education programme is divided into two streams: Talking Health, covering stress and anxiety, pain and recovery times, men's health and wellbeing, healthy workplaces and supporting staff around a healthy weight, and eye injuries; and Talking Safety, covering software and mobile technology to manage and improve work safety, working at height, forklift safety, industrial manslaughter, electrical safety and online workplace inductions. Each session runs for 45 minutes and bookings are required to attend.
The four interactive forums explore some of the hottest topics in OH&S for 2019: The First 48 Hours After Tragedy Strikes, When An Employee Becomes Mentally Ill: A Manager's Guide, The Bystander Effect: Why We Don't Do What We Say We'd Do and Contractor Management – Since Baiada – An Update. Bookings are required to attend these forums.
The round-table discussions are 20-minute topic-centred discussions being held on the show floor across the event, each followed by a 10-minute Q&A session. They cover VR training, employee drug testing in-house, increasing staff engagement, keeping lone workers safe, removing human factors from incidents, health, safety and environment systems and online first aid information.
The Workplace Health & Safety Show is part of #Safetyscape, an initiative of the Safety Institute of Australia, the peak body representing OH&S professionals. #Safetyscape is coming to Sydney for the first time and is a week-long programme of events, workshops, forums, seminars and conferences and an absolute must for anyone whose job involves workplace health and safety.