PACKAGING IS RECOGNISED FOR SUSTAINABILITY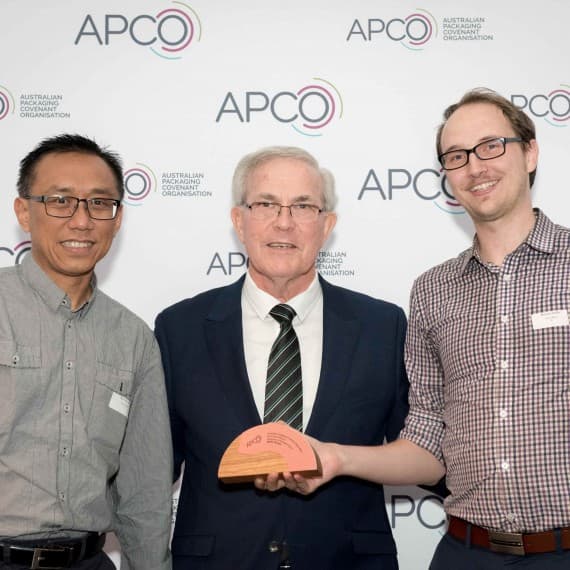 APCO Board Member Keith Chessell (centre) presents the award to Herman Hart (left) and Michael Reiffel (right) from Ryco Group
Ryco Filters has received an Australian Packaging Covenant Organisation (APCO) Award in the Machinery and Hardware Sector category.
The award recognises the active and ongoing commitment demonstrated by the company in its day-to-day operations to the principles of the Australian Packaging Covenant.
APCO promotes sustainable design, recycling initiatives and waste to landfill reduction activities.
The APCO Packaging Sustainability Framework aims to provide a consistent and transparent framework for assessing and tracking packaging sustainability across organisations. The framework consists of 13 different criteria covering leadership, packaging outcomes and operations.
"We challenge ourselves internally and look to our manufacturing partners to understand our commitment to the covenant and ask more about the packaging materials, recycled content and consider the materials they propose for new packaging early on in the product development phase," says Ryco Filters Engineering Manager and primary internal champion, George Dearden.
Dearden adds: "Sustainability is integrated throughout Ryco's development process and includes collaboration across the supply chain to improve the use of recycled content across both product and business-to-business packaging. The organisation is continually improving its packaging, guided by a company target to reduce packaging weight by 10% by 2020. Almost 50% of waste created on site was diverted from landfill."
Stuart Chandler, Executive General Manager of Ryco Filters concludes: "The team have invested a lot of effort over the past decade to the improvement of packaging throughout the supply chain and we are very proud to have this achievement recognised by APCO. A great credit to all the behind the scenes work."
Ryco Filters
1800 804 541
www.rycofilters.com.au