PACKAGING PROFESSIONALS TAKE IN CABLE COMPLIANCE MESSAGE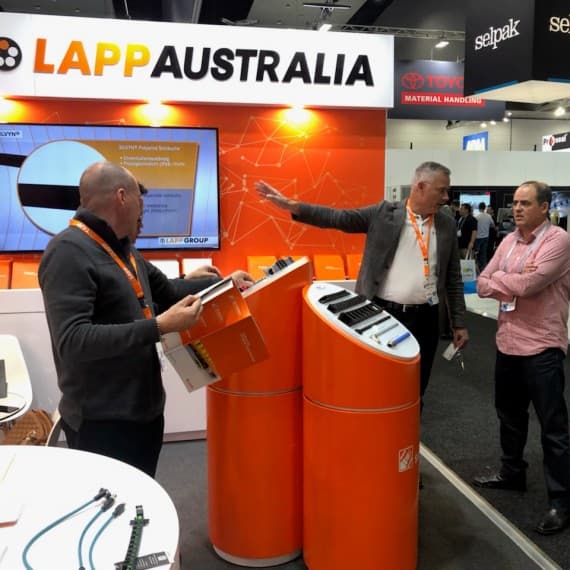 Lapp Australia reports encouraging levels of interest for quality European manufactured cable products backed by dedicated local support at its Auspack debut in Melbourne last month.
According to Lapp Australia General Manager, Simon Pullinger: "Visitors appreciated the wide range we had to offer, which has grown to more than 1500 products in Australia in our first year of operation.
"We also have access to the full Lapp range of more than 40,000 products, and we can provide stock with quick turnaround times, typically within one to two weeks. We're helping bridge a gap in the market for quality European manufactured products, backed by local support, and Auspack visitors gave us excellent feedback in this area," he added.
Lapp's Auspack display included globally proven ranges such as: Ölflex connecting and control cables, Skintop cable glands, Etherline Ethernet cables, Unitronic data cables Epic Connectors, Silvyn cable protection and supply systems, Hitronic fibre-optic cables and Flexmark cable marking systems.
"We had a wide range of interest in Lapp's products and service capabilities, particularly from the machine builder, food and beverage, packaging and pharmaceutical industries," said Pullinger.
One of the major focuses of the Lapp organisation is uniform standards compliance, which was a widely discussed topic at Auspack this year.
"Machine builders have experienced some real headaches exporting to markets like North America, where failure to comply with UL regulations has led to the entire machine having to be disassembled and reassembled on arrival," explains Pullinger.
"All Lapp cables are globally certified to meet every country's requirements, which means that Australian export companies can avoid expensive mistakes when one component isn't up to standard," he concluded.
Lapp Australia
1800 931 559
www.lappaustralia.com.au