Packaging industry honours high achievers
31-08-2010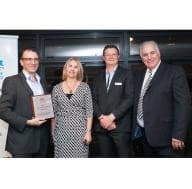 The Australian Packaging and Processing Machinery Association (APPMA) has recognised a number of companies and individuals for their contribution and outstanding achievements in the Australian packaging industry.
More than 250 people attended the 2013 APPMA Awards of Excellence – a highlight of the AUSPACK PLUS packaging show in Sydney last week.
The 2013 Awards are supported by Midway Metals, PKN, Schenker and SMC.
the biennial Awards of Excellence are designed to recognise innovative and outstanding packaging and processing solutions, said APPMA chairman Mr Mark Dingley.
"Companies that enter these biennial awards are recognised for their contribution and outstanding achievements against their peers within the wider packaging industry and we encourage everyone to enter," Mr Dingley said.
Awards categories include Export Achievement Award, Design Achievement Award, Customer Partnership Award, the Imported Equipment Award, Best New Product Award and the APPMA Scholarship.
Award winners included:
2013 APPMA Export Achievement Award
JMP Engineering – for its corner board applicator and stretch wrapping system.
The corner board applicator is designed to automatically apply any size corner board, on any size pallet with product, then automatically stretch wrap and top sheet.
2013 APPMA Design Achievement Award
Fibre King – for its RPC GS Erector.
The RPC GS Erector is Fibre King's low cost automation solution for the erecting of Reusable Plastic Crates (RPCs). Its detailed design development has led to a simpler machine, better matched to customer's needs, reduced capital cost, improved up time, and resultant increased sales. The RPC GS Erector promotes use of recycled packaging solutions leading to lower environmental impact.
2013 APPMA Customer Partnership Award
JMP Engineering – for its automatic palletising and stretch wrapping system designed for Pepsico Group. Some 183 palletising systems have been sold to Pepsico Group to date.
The system is an automatic palletising & stretch wrapping system, in one.
2013 APPMA Imported Equipment Award
JMP Engineering – for its Kawasaki manufacture and supplied robots that are integrated into JMP Engineering turnkey solutions.
ward nominees.
2013 APPMA Best New Product Award
Machinery Automation & Robotics – for the Singulator.
The Singulator provides a simple answer to the requirement in packaging and processing environments for high speed sorting of products from a group of individual items in random orientations into a single stream.
The innovative design, requiring minimal floor space, encompasses a series of 90° turns as guided by belt conveyors, sequentially running at increasing travel rates to allow for gap creation and singulation of product units.
Designed originally for food manufacturing environments, it has a robust, hygienic and easy-to-clean structure.
2013 APPMA Scholarship
Jamie Schellebeck, Packaging Engineer, Amcor Fibre Packaging.
The 2013 APPMA Scholarship offers one person the opportunity to further their packaging education through an internationally accredited Diploma in Packaging Technology.