PACKAGING TO THE FORE AS KOCKUMS REVEALS ITS NEW FAMILY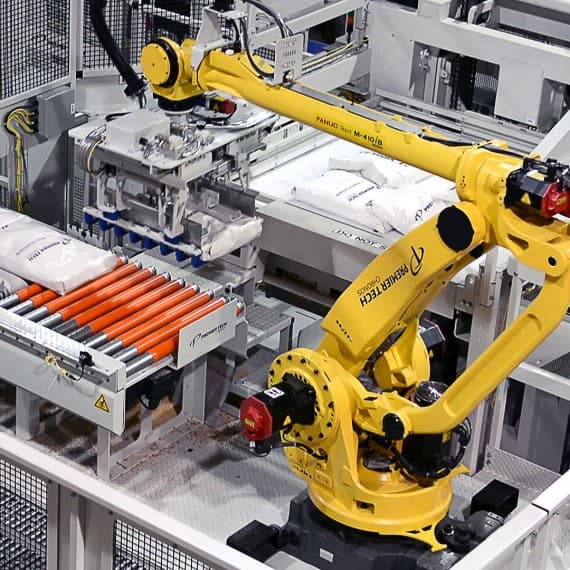 The Premier Tech Chronos RPL Series robot palletiser
Kockums Bulk Systems returns to AUSPACK in its new guise as a Premier Tech company following its acquisition by the Canadian multinational during 2018. Now part of Premier Tech Chronos, Kockums has a renewed focus on packaging machinery, making the exhibition an ideal opportunity to showcase its range and expertise.
The show will see the Australian debut of the Premier Tech Chronos RPL Series robot palletiser, which will be demonstrated alongside Kockums' traditional expertise in powder handling technology and vacuum lifting equipment.
The PLC-controlled robot palletiser features Premier Tech's own design of gripper, which is capable of handling a wide range of bags with ease. Premier Tech has its own range of end-effectors to suit bags, boxes, bundles, cases, cans, drums, trays, and bales. And it can handle all common pallet sizes.
The heavy-duty robotic cell can simultaneously gather bags, bales or containers from many different incoming product lines, and can be configured to fit in confined spaces to palletise incoming products.
Crucial to the company's new heritage, it is Kockums' ability to integrate and support all these technologies across the Australian market that forms a major aspect of its value proposition.
According to Kockums' MD Francois Steyn, "Our first year as a Premier Tech company has been really good, and the level of interaction has been remarkable. Our people have learned so much and have become fully integrated with the Premier Tech Chronos lineup. And at the same time Premier Tech has developed a much better understanding of the value we bring to the company as a whole."
Visitors to Stand H215 at AUSPACK will also have the opportunity to meet with the company's senior management. In addition to Francois Steyn, the event will be attended by André Noreau, President of the Premier Tech Chronos Industrial Equipment Group, and the company's Asia-Pacific Vice President Ivan Loyen.
Kockums Bulk Systems a Premier Tech Company
03 9457 8200
www.kockumsbulk.com.au