Published 17-11-2020
| Article appears in November 2020 Issue
PACK KING UPDATES TO RAPID WRAPPER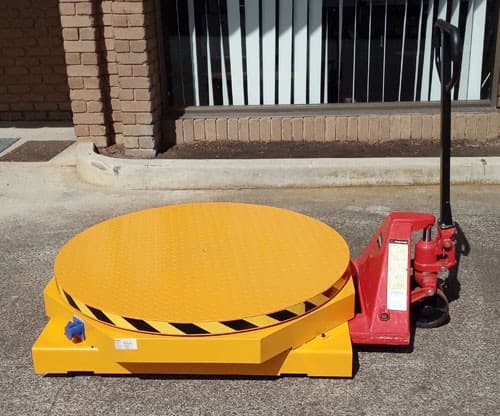 Pack King has added another feature to its popular Rapid Wrapper Stretch Wrapper.
It now has the ability to be moved around using a standard width hand pallet truck.
It can be loaded using a straddle truck or forklift.
At only 268mm high and with a 1220mm diameter chequer plate turntable, the Rapid Wrapper is ready to go as soon as you plug in the extension lead from the 240v mains socket and plug in the 24v foot control.
At a steady 8rpm, your load is rotated while you pay out the stretch film onto the load using a braked hand film dispenser – even under the corners for maximum strength.
Stopping at the top and applying a top cover will ensure the load is weather proofed.
Notches in the base frame allow you to stow the Rapid Wrapper on your pallet racking when not required (with no trailing cables), allowing maximum use of your floor space.
Shipped in a sturdy crate with top and front screwed access panels, makes for a guaranteed pristine product, with a simple lift out and go action.
It is ideal for small to medium businesses and larger ones needing an instant stand-in if their auto machine goes down.
Pack King. www.packking.com.au.