Published 03-09-2020
| Article appears in August 2020 Issue
PACK KING INTRODUCES POWERED FLOOR CRANES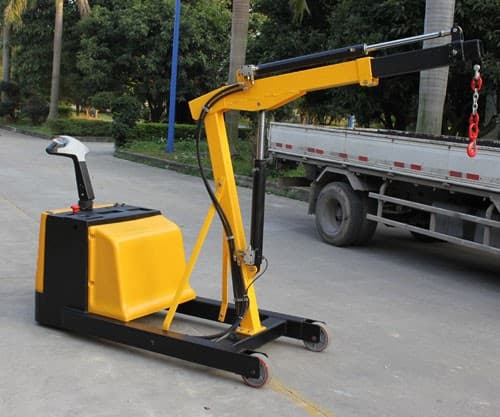 Loading or unloading a crate from the top isn't easy – unless you have a forklift or a crane.
Even then, getting crate to crane is not always a simple procedure depending on the layout of the site.
Pack King has responded by introducing a new range to its packaging and handling offerings: King Powered Floor Cranes.
With a King Powered Floor Crane, there's no longer a need to take the forklift or overhead crane out of action for relocation when it's time to unload. Simply power drive the crane to the destination, power extend and raise the crane jib to the required height.
From there, secure the slings around the safety hook and lift. To load a crate, reverse the process.
While floor cranes can initially be more cost-effective, the operator has to push or pull the crane and then add the load weight, all without control over the wheels. With the King Powered Floor Crane, brakes are applied as soon as the throttle is eased.
Manual floor cranes can take dozens, if not hundreds of pump strokes to reach full height, and the extension boom must be set manually. The Powered Floor Crane raises and extends hydraulically, dramatically reducing manual labour.
Pack King offers four Powered Floor Crane models, all with 2500mm max boom extension and 3.5m lift height. Load weight ranges from 200kg to 1200kg dependant on boom pick-up length.
Powered Floor Crane legs are available in fixed width (or straddle), or splayed and extendable models.
Whether you're working with trucks and utes with awkward loads, picking up drums from pallets or even removing engines from vehicles, the King Powered Floor Crane puts power and safety back into loading and unloading.
Pack King
0410 302 033
www.packking.com.au