Over 300 reasons to visit NMW 2013
31-08-2010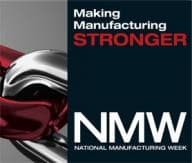 National Manufacturing Week returns to Melbourne from May 7-10 with a focus on promoting Australian manufacturing and helping local companies to boost productivity. 
Over 300 local and international manufacturing industry suppliers will exhibit at this year's event at the Melbourne Convention and Exhibition Centre.
And more than 10,000 visitors are expected during the 4-day event.
Co-located with Austech, NMW 2013 will feature – for the first time in Victoria – two new Product Zones: Sustainable Manufacturing and Metals & Composites. 
The Sustainable Manufacturing Zone will focus on opportunities for reducing industry's environmental footprint, while Metals & Composites presents new developments in industry's quest to develop reliable, lightweight, easily moulded manufacturing materials.
With the two new Zones, NMW 2013 will present a total of 12 Product Zones to help buyers and sellers easily find each other.
NMW 2013 will showcase products and services fast-growing sectors including aerospace, mining, biotech, sustainable and food packaging.
The 12 product zones include:
Air Technology
Automation and Robotics
Electrical
Electronics
Engineering
Health & Safety
Information Technology
Materials Handling
Metals and Composites
Process Control & Instrumentation
Sustainable manufacturing
Welding technology
"There has never been a more important time for industry to come together," said NMW 2013 Exhibition Director, Paul Baker.
Despite all the challenges now facing the sector, manufacturing remains a vital part of Australia's economy.
Manufacturing contributes some 8 percent of GDP and employs nearly one million Australians.
National Manufacturing Week reflects the latest technology and trends for the Australian manufacturing industry. 
Reed Exhibitions
(02) 9422 2500