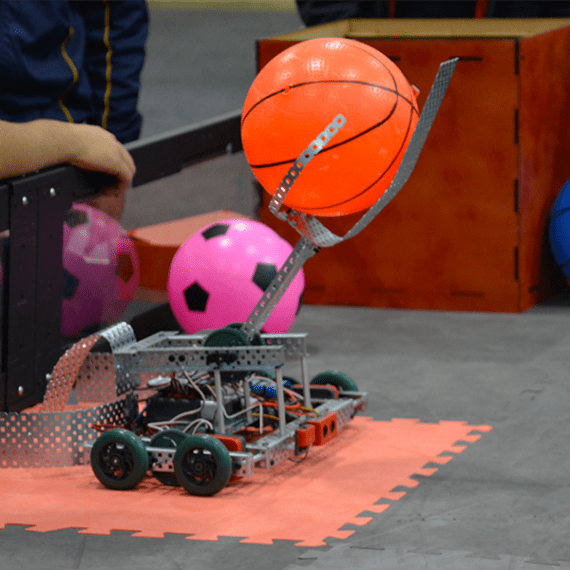 An assembled VEX robot, above, competes in a pre-season match at Austech 2017
Manufacturing deserves better than a future fraught with uncertainty and a shortage of skilled, enthusiastic talent.
The pathway into manufacturing is harder now than ever before, which is why it's become so important to reach out to students and get them started on the path to learning practical technological skills: skills that once saw Australia lead the world in scientific breakthroughs.
Enter the VEX Robotics championships, a worldwide project with thousands of participating schools.
Industry Update found the championship at National Manufacturing Week, almost by accident. Amidst the machinery and talks, students from eleven student teams from four Victorian secondary schools were taking part in a competitive robotics competition as part of the Design & Technology Teachers Association Victoria's pre-season VEX robotics tournament.
The programme has only been running in Australia for a few years, but internationally, it's been around for much longer. Travis Burroughs, Art & Technology Head at St Mary's Coptic College and Robotics Coordinator for DATTA Victoria, has been involved since early 2009, and has been a vocal advocate for the programme's Australian expansion.
"I ran teams in Canada, and we made the world championships a few times," he says. "You notice that a lot of the science education you see in Australia, it has… lots of little kits and things that are only good for one-off lessons."
"Whereas the stuff in North America seems to be more teacher driven; things like VEX Robotics where teachers can work on it throughout the whole year, or school career, and it's a little more holistic."
In an economy where employers often say that new entrants to the workforce lack practical experience, extra-curricular projects like VEX are essential. The tournament structure allows for a continual cycle of building, testing, and revision; the same kind of development cycle faced in the real world and the right kind of iterative approach that's most useful for accelerating learning.
"The kids who are doing the robotics tend to get ahead of the kids in physics, in programming, in the maths that's directly related to the robot. It gives them an advantage," says Burroughs.
"In North America, most of the kids from my teams have gone into an industrial job. These are kids who graduated high school two or three years ago, some of them are mechanical engineers, electricians, it's the full spectrum but everything the kids ended up doing for a career was based off those robotics."
The format is simple: each year (in April, as the tournament runs on a northern hemisphere schedule), the REC foundation releases a new game format, a new challenge for the teams to solve. Teams at each school then work to design, build, and code a robot that will perform against other teams. Teams from different schools face off in local competitions, then national competitions, and if they do well enough, the VEX international championships.
In North America, where the competition has significant traction, teams attract sponsors, live news coverage on ESPN, and particularly skilled players may be offered scholarships from partner universities.
"Industry Update, in cooperation with various state education departments, has been a big supporter of programmes with innovation aimed at connecting business with the future generations of engineers and industry talent," said Scott Filby, producer of Industry Update.
"The VEX robotics program is an outstanding initiative, and Industry Update is committed to giving it our maximum support; we'll be playing a key role in encouraging business and the manufacturing industry to participate as sponsors."
Teams are looking for sponsors to assist with the costs of robotics kits and travel; something that is not covered under standard school budgeting.
"To provide an example to the industry, Industry Update is also proud to announce that we are the official sponsors for Peninsula Grammar. I strongly encourage our readers to become involved with this innovative program and help support the future leaders of our industry," said Scott.
"We must make a decision today to ensure a sucessful tomorrow."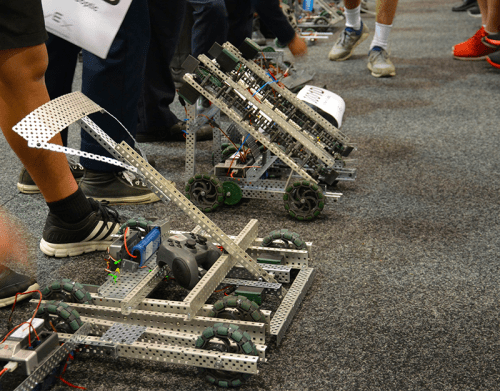 Teams from Victoria line up post-match, displaying their robots. 
In Australia, the few years VEX has been running haven't quite been enough to attract national coverage or scholarships.
"It's still just starting here, so if I look at Vancouver when it started eight, nine years ago, the scale would be about the same, and then through media coverage and partnerships with universities it started getting built up real quick," says Burroughs, who sees the potential for rapid expansion over the next few years.
With a national distributor being secured for the VEX robotics kits, the programme is set to expand further into NSW over the next year, with other states hopeful to follow suit.
The upbeat and hopeful nature of the VEX programme, and those involved in coordinating, matched the atmosphere at National Manufacturing Week. While not participating in the tournament, students had a chance to walk the convention floor and soak in the wide array of technology on display.
"We are thrilled with the 2017 results, which have certainly been one of the biggest years on record for National Manufacturing Week in Australia," said NMW Exhibition Director Robby Clark after the show had closed its doors.
"It is encouraging to hear many of our visitors, exhibitors and speakers view National Manufacturing Week as an event to mark in the calendar, with some already signed on for 2018 and beyond."
And those sentiments were echoed by Shane Infanti, Chief Executive Officer of Amtil, whose Austech exhibition was rightly dubbed "The Big Show" – thanks to the impressive array of capital equipment its exhibitors managed to transport to the Melbourne Exhibition Centre.
"Our exhibitors tell us they were impressed with both the quantity and quality of the visitors to the event. And what's more they tell us that the level of business confidence among the visitors was considerably higher than in recent years," said Infanti.
 Austech and National Manufacturing Week ran from 9th to 12th May 2017 at the Melbourne Convention & Exhibition Centre, with the ISSA Cleaning & Hygiene Expo on 9th and 10th of May.