| Article appears in April 2021 Issue
Oskar Lapp 'still a great role model today'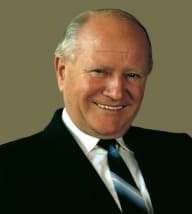 Oskar Lapp was born on 20 March 1921 in Benshausen in the eastern part of Germany, one of four children from a craftsman's family. From an early age, he showed an impressive talent for technical things and an inventive spirit. After being a prisoner of war and subsequently fleeing across the "green border" to escape the former Communist GDR, in the mid-1950s, he began a new life with his family in West Germany.
Starting again was tough, as he had left behind everything he owned when he fled to the west. Oskar Lapp initially worked for Harting, where he was responsible for the Southern Germany region. His innovative ideas also started to attract attention. For example, he developed the first rectangular connector for industry for the company. Thanks to his many meetings with customers, Mr Lapp knew exactly what users needed. 
With Olflex, Mr Lapp set quality standards in cable production that are still applicable all over the world. He was even offering ready-made cable harnesses with up to 130 coloured cores. Demand was huge. LAPP was also one of the first suppliers to offer and cut the cable harness length to customer requirements. Olflex was the right product at the right time and sales grew rapidly. Later, Unitronic data transmission systems, Hitronic fibre optic cables, Skintop screwed cable glands, Silvyn cable protection and guiding systems, Epic industrial connectors, Etherline data transmission systems for Ethernet technology and Fleximark marking systems were added. 
Because of his painful experiences as a Soviet prisoner of war, Mr Lapp was always committed to establishing international business relationships and friendships in the west. He found his first sales partners in Switzerland and Israel back in 1960. Mr Lapp founded his company's first international subsidiary in the US in 1976, which he no doubt saw as the exact counterpoint to the Soviets during the Cold War. 
At the same time, he positioned his company as a one-stop shop in connection technology and this principle remains a successful formula to this day. "Our father led our company to success with hard work and ambition and with a clear view of what is really important. He exhibited persistence, entrepreneurial spirit and innovation and these are still part of LAPP's DNA today," said Siegbert Lapp, chairman of the supervisory board at LAPP Holding AG.
The Lapp family and employees all over the world honoured this great entrepreneurial personality by laying a wreath at the old cemetery in Stuttgart-Vaihingen and by holding various commemorative events. "Our father is still a major role model today. The LAPP company would not exist without Oskar Lapp. We continue his life's work with the deepest gratitude. The fact that the third generation has now taken over the running of LAPP would definitely make him very proud", said Andreas Lapp, chairman of the board of LAPP Holding AG.
See also LAPP Australia celebrates achievements of its founder.