OSCILLOSCOPES PROVIDE MORE INFORMATION ON SCREEN
31-08-2017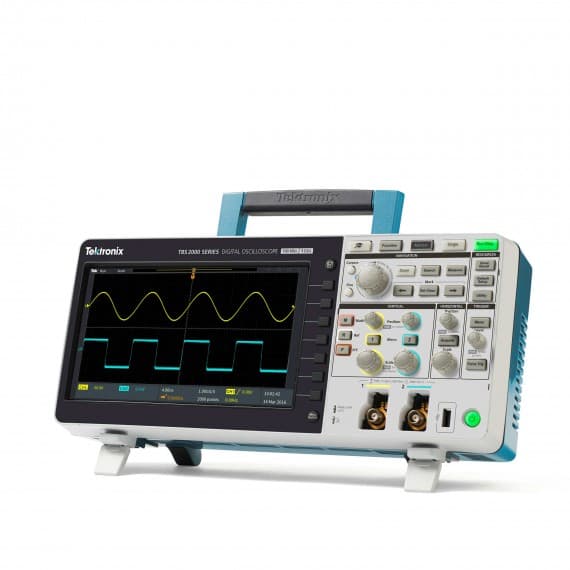 The latest range of digital storage oscilloscopes available from RS Components can capture and display more information that competing units, providing imp-roved diagnostic data for those working in industrial, academic, and research and development environments. The Tektronix TBS2000 series provides 10 vertical and 15 horizontal divisions rather than the 8 x 10 provided by most oscilloscopes.
Key applications to take advantage of this performance include circuit debugging and testing in the manufacturing and radio broadcast equipment areas.
The scopes are designed for easy operation, with single-button access to frequently used functions and a large 9in wide VGA colour display that has ample room for measurement results and menu information.
Enhanced features include signal analysis using on-waveform cursor readouts, 32 pre-programmed automated measurements, as well as an FFT function for thorough waveform analysis. The TBS2000 also allows records of up to 20 million points on all channels and a sampling rate of up to 1Gsample/s.
The TBS2000 series supports the latest generations of active, differential and current probes with automatic scaling and units, and also works with traditional BNC connections. There are USB2.0 ports on both the front and rear panels for easy interfacing; a Wi-Fi interface enables wireless communications; and an LXI-compliant 10/100Base-T Ethernet port is available for local area networking.
Individual models in the range include the TBS2072, which comes with a 100MHz 10x passive probe (one per analogue channel), documentation CD with programmer manual, installation and safety manual, power cord, and a calibration certificate documenting traceability to NMI and ISO9001 quality system registration.
Additional probes are also available, and other accessories include the TekVPI to TekProbe BNC adapter, soft transit case, and a GPIB-to-USB adapter.
The Tektronix TBS2000 series is available in Australia from RS.
RS Components
1300 656636
au.rs-online.com