Optrel: the safe way to weld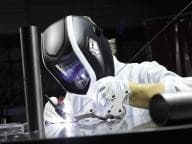 Comfort and style … Optrel's new p550 welding helmet
Honeywell Safety Products, a leader in personal protective equipment, has released the latest Optrel welding helmet featuring safety, comfort and style.
The p550 from Optrel is an auto-darkening helmet designed to suit the serious DIY or professional welder. It is styled with a choice of optional side covers to suit the standard Black & White Bulldog helmet.
By simply changing the optional side covers the welder now has the choice of three designs – Tribal, Tiger and Skull. The p550 range offers even more styling choices with additional Carbon and Black models without side covers.
Optrel's new p550 offers premium quality at an attractive price point.
The combination of the ADF with the high impact helmet shell guarantees a long life and top safety standard for welders.
The popular Optrel headband and high impact certification also ensures wearer comfort and protection.
Other features include solar cell driven batteries that reduces the need to constantly switch on and off, a Potentiometer knob to provide variable shade adjustment from shades 4/9-13 or 4/11, and a two-year warranty from date of purchase.  
The P550 from Optrel is also certified to AS/NZS 1337.
Honeywell Safety Products
Ph: 1300 139 166