OPTICAL SENSORS KEEP AUTOMATED VEHICLES ON TRACK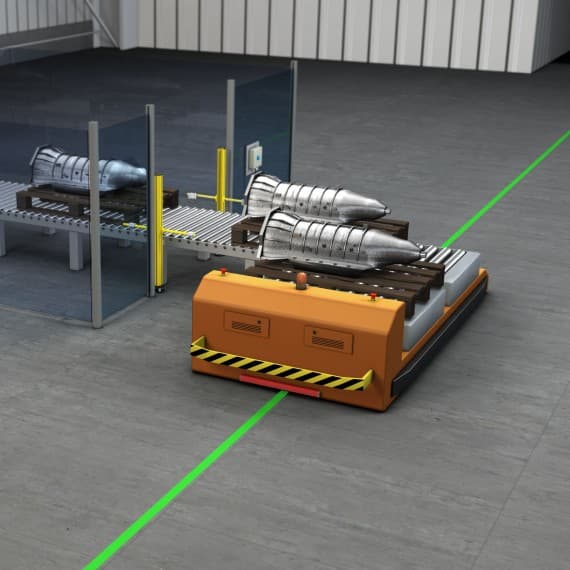 Automated guided vehicles (AGVs) are increasingly used in production, warehousing and order picking. Every one must find its way to an exact position quickly, safely and cost-effectively. There have been various technologies in this area, each with its own specific properties, and with each further enhancement, new opportunities result.
Today, there are many different types of systems, from those that follow a wire or tape, through to laser positioning and wireless. When developing a new idea for an application, a combination of a positioning, navigation and safety solution is required. It is worth taking a closer look at and comparing the different technologies, however, since not every technology is suited to every application in equal measure.
For example, small and simple applications commonly have different requirements from larger ones. As a rule, though, two issues should always be considered together: safety and navigation. In terms of safety, it is worth considering safety area scanners, which prevent collisions between vehicles and people or objects.
With regard to navigation, it is necessary to investigate whether an additional scanner system or a different technology should be used to navigate the vehicle safely. With scanners, the data usually comes as bitstream per beam with the angle and distance to the object. Software with a suitable level of hardware performance is required for evaluating the navigation data of the vehicle. Equally, a shutdown mechanism must be considered.
Current developments and performance increases in safety laser scanners will soon permit the output of navigation data via recognised and standardised bus interfaces, combining both functions in one device. This simplifies the integration of the system and significantly reduces the complexity of installation and interface. An example of this combined function is the RSL400 safety laser scanner with Profinet from Leuze electronic.
These scanners are also readily used in combination with systems that contain reference positions by means of transponders or code reading. This is especially the case in areas where there is an overlap of AGVs and manned vehicles for supporting pick assistance systems.
In such cases, there is a corresponding reader moving along inside the vehicle. Transponders or codes are arranged in or on the floor or ceiling at crossings and reference positions, which are connected to assistance systems for additional information.
Systems that work with reference positions or navigation scanners are usually flexible in terms of changes. Often there is a change to a new situation merely from a teaching-in or graphical drawing of new reference points. This flexibility has many advantages, but it may not be needed.
In enclosed areas where there is hardly any human traffic, simple tracking with an induction wire or magnetic tape in or on the floor is popular. The wire itself is robust and durable, but not flexible because it has to be housed in the floor. Magnetic tape offers more flexibility, but the floor structure has to be taken into account.
Optical systems are usually much easier to build or modify. Those that follow a line are particularly flexible, since the line can easily be installed and modified, especially if it is formed from adhesive tape. Cameras or sensors are commonly used for optical detection and tracking of the line.
The diversity of AGV applications across a broad variety of industries shows the necessity of a large range of technologies and options, so a solution tailored to the respective application can be achieved at a good price.
High flexibility
The OGS 600 from Leuze electronic is a new sensor for optical tracking based on contrast detection. It allows for a detection width of 140 to 280mm on an illuminated adhesive tape with a line and contrasted trace. It is suitable for use in AGVs of all sizes with standard, simple vehicle interfaces.
It enables cost-effective vehicle automation for the transport of materials and goods in production and storage areas. With its edge detection and transmission of signals to the steering motor, the trace can be guided optically, so driving can be automated in the simplest of ways.
The compact design of the OGS 600 and its low minimum distance to the ground of 10mm means it can be integrated even into flat vehicles.
Leuze electronic
1300 538 933
www.leuze.com.au